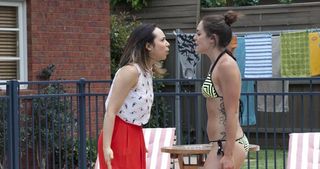 Daniel notices Imogen's subdued mood, and she reveals her issues are twofold: one, Paige warned her to stay away from him; and two, she doesn't know how to be around people who are grieving. When Imogen visits the Turners, Paige challenges her on her motives for continuing to see Daniel. Imogen tries to set the record straight, but Paige refuses to listen and pushes her into the pool.
Lauren, Lou and Paige discover Matt's trashed memorial and as an admission of guilt, Bailey joins his sisters and Lauren to clean up his dad's memorial. In a heart to heart with his mum, he confesses that he can't help being angry at Matt's senseless death and he misses him more than words can express.
Josh has to do a fitness assignment but when he reveals Karl's score is below average, the doctor decides to get fit. He retrieves his cycling gear from the garage and with Toadie, Nate and Lou forms MAMIL, middle-aged men in Lycra – he's determined to trim up.
Get the latest updates, reviews and unmissable series to watch and more!
Thank you for signing up to Whattowatch. You will receive a verification email shortly.
There was a problem. Please refresh the page and try again.