Peri's struggling to cope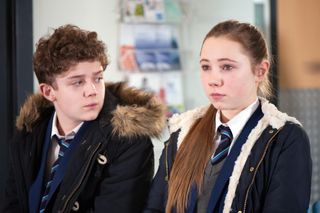 As his bullying continues, Tom tells Peri he's not going to let the tormenters win. At school, Tom accuses Zack of leaving Photoshopped pictures in his bag, starts a fight and gets suspended, much to Peri's delight. However, Jack discovers Peri's handiwork on her laptop. Peri explains she's struggling and Jack encourages her to be patient but, left alone with her baby daughter, Peri crumbles.
Dirk catches Cindy and Dr S'Avage in secret discussion and his suspicion about them rises. Dr S'Avage is cornered by Lindsey and Kim in the drugs cupboard, who ask him not to fire Celine. Aware that one of them could be a killer, he dismisses their concerns and asks them to help him with the Hollyoaks Pride festival. Meanwhile, Dirk accuses Dr S'Avage and Cindy of cheating behind his back. Later, Cindy sets up a hidden camera in the drugs store and waits for the Gloved Hand to be unmasked...
Having been paid by Lisa, Theresa agrees to go out with Zack. Lisa watches their date and it seems like they're getting on well. Unfortunately, Simone turns up to ruin the moment and Theresa lets the cat out of the bag about the money she's being given by Lisa.
Also, Louis has had enough of Patrick undermining him and stands up for himself, but he may have pushed the demon headmaster too far…
Get the latest updates, reviews and unmissable series to watch and more!
Thank you for signing up to Whattowatch. You will receive a verification email shortly.
There was a problem. Please refresh the page and try again.