Rich House, Poor House – Channel 5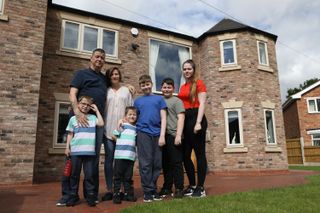 Channel 5's life-swap series Rich House, Poor House returns with two families from Doncaster, who despite only living a few miles apart, are worlds away in their lifestyles
Channel 5's life-swap series Rich House, Poor House is back, starting off with two families from Doncaster.
The Nunns live in a luxury six-bedroom house, complete with car previously owned by Kylie Minogue no less, thanks to wife Terri-Ann's hugely successful diet business.
She is a workaholic, and even had to be told to get off her phone when she was giving birth.
The Rosses and their five kids (pictured above) squeeze into a tiny three-bedroom council house.
Mick earns £8.50 an hour as an accident repair driver, while Anne is a stay-at-home mum.
As they swap lifestyles for a week, Terri-Ann is not fazed when she has to do all the housework and live on a shoestring, as it wasn't so long ago that she was living in a house similar to this, with a similar lifestyle.
Anne, meanwhile, can't believe her luck when she discovers she has a cleaner for the week, and has enough money to eat out and to let the kids go mad in the local toy warehouse.
MORE: See our new TV listings guide
But it's a revelation for both of the wives, as they both realise they've got their work/life balance all wrong.
And when Anne learns the tragic reason behind Terri-Ann's drive and ambition, it gives her food for thought about what she wants in her own life.
Thought-provoking, heart-warming and entertaining in equal measures.
TV Times rating: ****
Get the latest updates, reviews and unmissable series to watch and more!
Thank you for signing up to Whattowatch. You will receive a verification email shortly.
There was a problem. Please refresh the page and try again.