Rita returns… and is shunned in Casualty!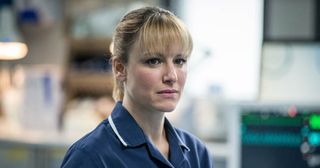 (Image credit: BBC)
Rita makes a shamefaced return to the ED this week and none of her Casualty colleagues seem pleased to see her...
Rita makes a shamefaced return to the ED this week and none of her colleagues seem pleased to see her. Having lost the confidence of her nursing staff for tricking popular paramedic Iain into staying in a relationship, will Rita be forced to resign?
Glowing after a local newspaper report calling him a hero for saving a baby's life, newly qualified paramedic Jez (Lloyd Everitt) gets carried away this week and ends up putting a life at risk. Persuading his boss Iain to let him drive the ambulance, excitable Jez whacks up the music and starts driving a little too recklessly for Iain's liking.
Things take a more serious turn when they're transporting a nine-year-old girl with breathing difficulties back to the ED and Jez runs out of diesel after forgetting to refuel!
Has Jez needlessly put a vulnerable patient at risk? And could this spell the end of his career?
Elsewhere, Connie decides it's time to tell Grace about her rekindled relationship with Jacob.
Dylan dreads babysitting his sister Rihanna alone, but Max offers to help – for a price!
Also this week, Robyn is heartbroken over Glen's lies. Lily's abrupt bedside manner frightens a child she's treating. And the team must pull together to help two men impaled on the same railing!
Get the latest updates, reviews and unmissable series to watch and more!
Thank you for signing up to Whattowatch. You will receive a verification email shortly.
There was a problem. Please refresh the page and try again.