Ross Kemp Living With Online Gambling Addiction – ITV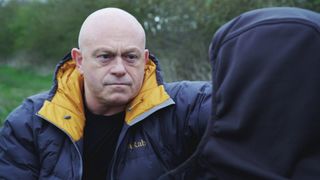 Ross Kemp looks at the damage done by online gambling in the last of his ITV documentary series, Ross Kemp Living With Online Gambling Addiction
There's a shocking statistic in tonight's hard-hitting ITV documentary Ross Kemp Living With Online Gambling Addiction – it's thought that around 550 people die from gambling-related suicide in the UK every single year.
Ross (pictured above) meets two couples whose sons took their own lives after becoming addicted to online gambling, as well as several people trying to deal with crippling debts after getting caught up in online betting.
He even hears from one woman, Karen, who spent her last £200 on virtual jackpot machines, meaning she couldn't buy a birthday present for her young son.
Then there's Alex, a teacher, who lost £127,000 in just 26 minutes playing online roulette.
'It's my son's birthday today and I haven't been able to buy him the presents he wanted,' Karen tells Ross.
'The money was there for him and I gambled it – that hurts.'
'This is my last chance,' admits Alex.
'If I don't keep myself busy, then it's game over.
'I'm convinced if my addiction were drink or drugs, I'd be dead a long time ago.'
A sobering watch…
TV Times rating: ****
Thank you for signing up to Whattowatch. You will receive a verification email shortly.
There was a problem. Please refresh the page and try again.