Saving Britain's Hedgehogs – Channel 5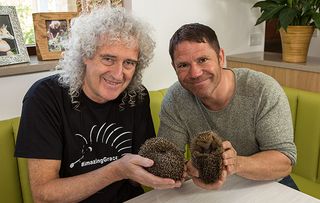 Steve Backshall and Queen's Brian May are among the famous faces teaming up to save the nation's favourite (and cutest) wild animal
Steve Backshall and Queen's Brian May are among the famous faces teaming up to save the nation's favourite (and cutest) wild animal
The hedgehog was recently voted Britain's favourite wild animal, but in Saving Britain's Hedgehogs we discover that their numbers are decreasing at such a speed that they could be extinct in this country within a decade.
But never fear, because Steve Backshall is determined to reverse the humble hog's fortunes.
In the first episode of a two-part series, he finds plenty of others who share his passion.
Steve meets up with people like Queen guitarist Brian May. Three years ago, Brian teamed up with wildlife expert Anne Brummer to set up Amazing Grace, a hedgehog rescue centre in Surrey.
It's rewarding but nerve-racking work. "We had this poor little hedgehog come in with a badly injured leg," says Brian.
"We needed to amputate it to save her, but the little thing stopped breathing during the operation. It was so traumatic, but luckily she pulled through.
"I don't think we realised how stressful it was going to be!"
Other hog huggers include Only Fools and Horses star, John "Boycie" Challis – "My passion began on a childhood trip to Somerset," he says.
"I found these tiny little hoglets and they were so adorable. I've been fascinated by them ever since."
Closer to home, there's 75 year-old Joan Lockley, who has turned her house into a hedgehog sanctuary.
In a long association with the prickly critters, Joan has played host to over 17,000 hedgehogs.
"I'm looking after a batch of 23 hoglets at the moment and it's nearly killed me," she laughs.
"It's a full-time job keeping them fed!''
On a more practical level, Steve also learns there's lots of things we can do to make our gardens hog friendly.
TV Times rating: *****
Get the latest updates, reviews and unmissable series to watch and more!
Thank you for signing up to Whattowatch. You will receive a verification email shortly.
There was a problem. Please refresh the page and try again.