Scott kicks off the Hollyoaks fete!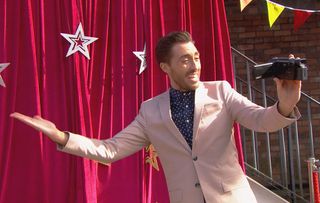 Scott's full of enthusiasm as he opens the MS fete... but his day takes a surprising turn...
An excited Scott is preparing for the MS awareness fete he's organised, but it seems no one's got any time to record a message of hope for his video diary. Meanwhile, Kyle reassures Ryan that he'll find out how much Scott heard of their conversation when they were in the toilets.
Soon the fete is buzzing and Nancy's proudly manning the MS awareness stall but, when Scott puts her on the spot to do a speech, she has a tremor. Tony blames Scott, but Scott's mood improves when Kyle unexpectedly asks him on a date.
Later, however, Tony and Harry are alarmed when they get home to find a barely conscious Scott being stretchered out of the flat – what's happened?
Also, Darren wants Tom to get back into the driver's seat after the accident, but Tom's not ready to face his fears. Lily gives Tom the support he needs but, inside, Lily's afraid her scars from the crash will be permanent.
Get the latest updates, reviews and unmissable series to watch and more!
Thank you for signing up to Whattowatch. You will receive a verification email shortly.
There was a problem. Please refresh the page and try again.