Secret Life of the Zoo: Underwater Special – C4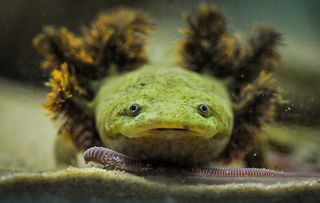 (Image credit: Steve Rawlins)
Trying to encourage fish to breed is a fin-ickety business, as we find out in this Secret Life of the Zoo: Underwater Special
Trying to encourage fish to breed is a fin-ickety business, as we find out in this Secret Life of the Zoo: Underwater Special
Love is in the air in this Secret Life of the Zoo special that looks at some of Chester Zoo's rare (and bizarre-looking) underwater creatures.
Blind cave fish Tiny Tim is 32 and has never bred before, despite his keepers trying everything to get him to mate with his harem of five females.
Now they're pinning their hopes on a brand new fish form of Viagra!
Then there's rare Mexican lake salamander Ophelia (pictured above), who refuses to mate with her partner, Kevin, but has taken a shine to Simon, while over in the Humboldt penguin enclosure, flirty male Frazzle seems to have his pick of the females.
With the keepers desperate for him to breed and for the colony to continue, will he ever settle down?
Here, Frazzle's keeper, Anne Morris, tells TV Times more about their wonderful, wayward bird…
Do you have high hopes for Frazzle finding a mate?
Yes, he's a fantastic bird, very cool.
When the breeding season started, he seemed to have paired up with Panay; they were a nice match.
He found a nesting box for her and there was a bit of courting going on, but as soon as she laid an egg, he wandered off and started flirting with all the other girls!
We were worried Panay was going to have to rear the chick by herself.
Can that be a problem?
Yes – what you need with a pair of penguins is for them to share everything, including sitting on the eggs.
If a penguin has to do that alone, it means the egg might not hatch because she'd have to leave the nest more often to feed.
Normally they work as a team.
Do all the penguins have different personalities?
Oh, yes, we've got some really nice friendly ones and some crabby ones and some that just like to chill out.
My favourite is Rudd – he's 26, so he's an old boy now.
He's got a bit of arthritis, but he's a smashing bird.
Why are Humboldt penguins so special?
You watch them walk and they make you smile.
The way they swim is amazing, too – they're like dolphins in the water and if they're feeling really great, they let out a little 'yay'.
It's great to watch.
TV Times rating: ****
Get the What to Watch Newsletter
The latest updates, reviews and unmissable series to watch and more!