Sid helps a troubled patient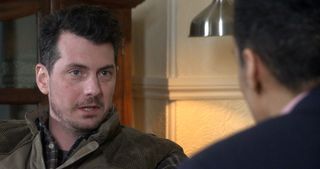 (Image credit: BBC)
Sid's patient Edward tells him that he feels his life is over after he lost a leg. However, Sid convinces him that he still has a lot to live for. Sid tells Mrs Tembe about his success with the patient and Mrs Tembe suggests that he tell Zara, but when he does she subtly hints that he should still think about a different career.
Zara enters The Mill for the Partners' Meeting. During the Meeting, Zara's out-voted when the other three agree that Sid just needs some more training. Later, Zara is hopeful when Daniel says he'll go to Joe's nursery meeting with her, but is dismayed by his refusal to consider that something might be wrong with their son.
Emma asks Niamh if she will be her confidante for the 40-day date project. Niamh is initially thrilled, until she realises that Howard's confidante is Al. Later, Al and Niamh meet at The Icon and Al seems easy-going, while all along the strain of keeping his feelings for her in check is evident.
Get the latest updates, reviews and unmissable series to watch and more!
Thank you for signing up to Whattowatch. You will receive a verification email shortly.
There was a problem. Please refresh the page and try again.