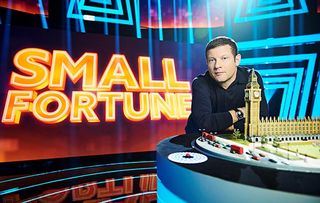 (Image credit: ITV / Youngest Media)
Small Fortune is a new ITV game show hosted by Dermot O'Leary, in which teams must take on challenges in miniature settings
Small Fortune is a new ITV game show hosted by Dermot O'Leary, in which teams must take on challenges in miniature settings
Dermot O'Leary is the big man on set in this playful new game show.
He encourages, commiserates and celebrates with contestants as they compete to take home as much of a £150,000 prize as they can bank, by playing deceptively simple teeny, tiny games, from throwing hoops over a mini model of Big Ben to knocking down a tiny Stonehenge.
First up, three members of the England amputee football team aim to win a life-changing cash prize.
TV Times rating: ****
Dermot, 45, gives TV Times a little preview…
How does the show work?
When you describe Small Fortune as the smallest physical game show, you may think it's easy, but it's not!
Contestants need to win three games to get to the final.
During each game, they can bank up to £50,000.
They are allowed one free practice in every game, but after that every practice costs £5,000!
There's a large chunk of money at stake. The jeopardy and tension looks after itself, especially when it's the final game and they're playing for the money they've banked.
The potential prize money is enormous. Does anyone win the full £150,000?
You'll have to watch to find out!
Split between three teammates, it can be life-changing.
It's money for a house deposit or to put the kids through school.
It takes bravery to say, 'Okay, I'll just do one practice and then play for £150,000.'
When the lights go down and the voiceover comes on, however many times you are successful in the practice, you never know how you'll do until you are there.
You really end up rooting for them.
What talents will the players need to succeed?
All the games need different skills, from steady hands and coordination, to focus and being cool under pressure.
Sometimes the contestants seem amazing but three games in, they get knocked out – while other people don't seem focused, yet suddenly get through to the final!
Many are of the view that nothing ventured, nothing gained…
Get the latest updates, reviews and unmissable series to watch and more!
Thank you for signing up to Whattowatch. You will receive a verification email shortly.
There was a problem. Please refresh the page and try again.