Stacey Dooley Sleeps Over – W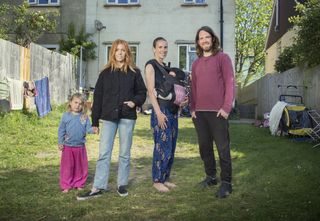 In this week's Stacey Dooley Sleeps Over on W, Stacey meets the Allen family, where their three young children call the shots…
Stacey pitches up at the Brighton home of Adele and Matt Allen and their three young children Ulysses, eight, Ostara, four, and baby Kai, in this week's Stacey Dooley Sleeps Over on W.
The couple believe in 'unschooling', which means the kids have no rules and do whatever they fancy and if that means pizza for breakfast and bed at 11pm, well, so be it.
Stacey struggles with a lot of their parenting decisions, especially their choice not to vaccinate.
She wonders if they are being irresponsible, but you can't deny Adele and Matt love their kids and totally believe in their radical, sometimes bizarre but ultimately gentle way of raising their brood.
It may make your blood boil, but it raises interesting questions about modern parenting.
MORE: Stacey Dooley Sleeps Over
'We came to the realisation that parenthood is about sacrifice,' says Adele.
The couple are not concerned that Ulysses can't yet read or write his own name.
'There's no rush,' says Adele.
'Unschooling is child-led learning.
'You follow their lead on what they want to learn about and when.'
'I get why people disapprove,' adds yoga instructor Matt.
'Before, I would have disagreed with our lifestyle.
'But we have evolved.
'It was a real willingness to walk into the unknown.'
TV Times rating: ****
Get the latest updates, reviews and unmissable series to watch and more!
Thank you for signing up to Whattowatch. You will receive a verification email shortly.
There was a problem. Please refresh the page and try again.