Sunita and Karl are found out!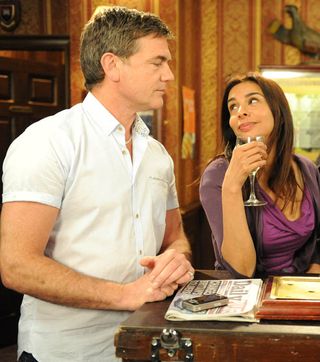 Stella insists that Leanne and Eva join her for a girls' night out in the hope they'll make up and is relieved when they finally agree to bury the hatchet over Nick. Sunita meanwhile is fed up at being left in charge of the shop while Dev enjoys himself at the golf club and heads off for a night out of her own. Back on the street Dev's unimpressed to find Sunita in the pub and heads out to reopen the shop. Sunita stays in the pub till closing time, then attempts to seduce Karl and he gives in. But when Stella, Leanne and Eva return they catch them in a compromising position! Michelle's furious to hear that Ryan's been thrown out of uni. Ryan admits it happened after a prank involving fire extinguishers. Feeling sorry for Michelle, Steve gives Ryan a job working on the switch at Streetcars. But Lloyd reckons Ryan's a liability and Steve's only done it to impress Michelle. Mary asks Roy to accompany her to an Elgar recital and they arrive back from the concert elated. As Roy goes to make Mary a cocoa she watches him lustfully. Also, Jason invites Maria out for a drink and it's clear they fancy each other. *Second Episode, 8.30pm* As Karl and Sunita pull their clothes back on Stella and Eva watch horrified. Stella throws Sunita out and turns on Karl. Karl tries to play it down, but Eva tells Stella she suspected they were having an affair all along. Over at No 7 Stella drags Sunita out demanding to know how long she's been sleeping with Karl. Sunita confirms it's been going on a while and Stella slaps her. Dev emerges from the corner shop and Stella explains his fiance has been having an affair with Karl. Inside Sunita gives Dev an honest account of her affair and packs her bags to leave. Dev's a broken man, but insists they can give their relationship another chance. As Stella throws Karl on to the street, Dev begs Sunita not to leave him. Maria and Jason spend the evening together at Maria's flat. It's clear they think a lot of each other. When Jason attempts a goodnight kiss, Maria responds willingly. Michelle finds Ryan working on the switch at Streetcars. Michelle's initially unimpressed, but Steve placates her, assuring her Ryan is earning some cash and he will keep an eye on him. Also, when Mary invites Roy to a classical concert in August, Roy suggests Hayley could join them too...
Get the latest updates, reviews and unmissable series to watch and more!
Thank you for signing up to Whattowatch. You will receive a verification email shortly.
There was a problem. Please refresh the page and try again.