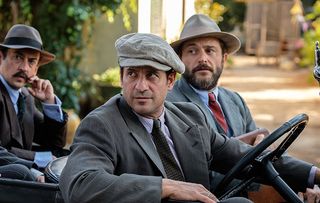 (Image credit: JOSS BARRATT)
With the final ever series of The Durrells nearly at an end, star Alexis Georgoulis talks about what he'll miss about playing Spiros…
With the final ever series of The Durrells nearly at an end, star Alexis Georgoulis talks about what he'll miss about playing Spiros…
With only two more episodes of the beloved ITV drama series to go, there's not much time left if Spiros and Louisa are going to get their happy ending.
Despite all the flirting – and his decision to move in – Spiros (Alexis Georgoulis, pictured above) has strong views on fidelity.
Elsewhere, feeling rather sheepish, Leslie and Basil have an uneasy sense that their honey trap is about to malfunction...
Meanwhile, Margo, worrying about the war, returns to Corfu.
And as for Gerry, he's delighted to welcome his first visitors to the zoo...
Here, in an exclusive interview, Alexis, 44, who is a huge star in his native Greece, tells us why Spiros and Louisa (Keeley Hawes) deserve that happy ending…
You are keen for love to conquer all, aren't you?
Yes, from the moment we started filming series four, the very first scene, I had the feeling that Louisa and Spiros just have to get together, it's like they are meant to be.
There is still this heartache between them and the attraction is great, but the obstacles are greater, which makes the passion bigger!
In this series we've seen them trying to figure out what's going on between them, but divorce will always be seen as a failure in that society.
What has it been like working with Keeley?
We have always had a very good relationship.
I love working with her.
We created this connection in the early days and we always communicate really well – the scenes we have had together have been so alive.
She has the charisma to make you feel that we're not shooting a TV series, but we're in the situation the writer has created.
Will you miss the animals?
Acting with animals is a little bit weird because whatever they do is because they want to, not because the writer says so.
It's a very good lesson for the actor!
Spiros doesn't get many animal scenes, but I had some moments with the goats and lemurs this year.
The lemurs act like silly people, I love them!
TV Times rating: ****
Get the latest updates, reviews and unmissable series to watch and more!
Thank you for signing up to Whattowatch. You will receive a verification email shortly.
There was a problem. Please refresh the page and try again.