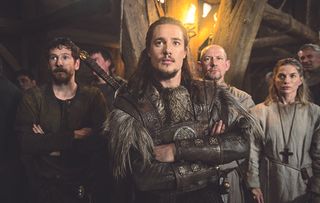 (Image credit: BBC/Carnival/Des Wille)
As the epic historical drama returns for a second series, warrior Uhtred (Alexander Dreymon) is supposedly heading north to avenge Earl Ragnar's death
As the epic historical drama returns for a second series, warrior Uhtred (Alexander Dreymon) is supposedly heading north to avenge Earl Ragnar's death and reclaim his ancestral lands of Bebbanburg, but seems more interested in drowning his sorrows in wine and women.
Meanwhile, the pious King Alfred (David Dawson) hatches a plan to unite the Anglo-Saxon tribes and drive out the Danish invaders.
Series two looks bigger in scale and scope, with more locations and characters, and this week's opener includes an impressive set piece in which Uhtred spooks the Danes by disguising himself as Death and recruiting some lepers to saddle up as his ghostly henchmen!
Thank you for signing up to Whattowatch. You will receive a verification email shortly.
There was a problem. Please refresh the page and try again.