The reconstruction of Robert's shooting creates havoc!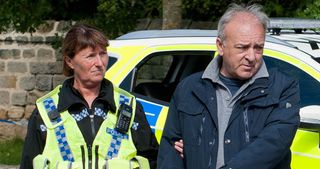 It's time to film the police reconstruction of Robert Sugden's shooting and Lawrence is allowed out of prison for the privilege! He's terrified that he's going to expose his innocence and, in turn, put his daughter back on to the suspect list. And when his 'recollection' of the evening's events clash with Chas's testimony, the police have got a problem on their hands.
Meanwhile, as Adam reviews the footage of the village he and Victoria have recorded for baby Johnny, he's horrified when Aaron appears on screen doing something very dodgy indeed…
The news spreads that Priya reported her own brother to the police, leaving her loved ones stunned. But there's no time to dwell on the issue as she and Rishi are worried about Kirin who hasn't surfaced following a night out with druggy Jai…
During the reconstruction Chrissie takes Rakesh to one side to apologise for trying to kiss him and, elsewhere, Rishi comes to a big decision. He wants Jai out of the family business at the sweet factory!
Leyla hoodwinks Pollard into agreeing to more bookings at the B&B – he's unaware his anger and abuse have become the star attractions to the paying public!
Get the latest updates, reviews and unmissable series to watch and more!
Thank you for signing up to Whattowatch. You will receive a verification email shortly.
There was a problem. Please refresh the page and try again.