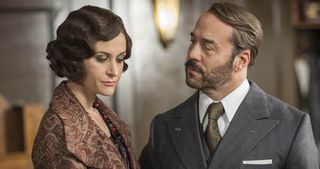 We open in 1928, nine years after season three, we find Harry Selfridge at the pinnacle of his power and public celebrity – a retail giant at the heart of the roaring twenties. A man-about-town in London and often gambling glamorously abroad, rumours of Harry's latest fling light up the social circuit at Victor Colleano's new nightspot, which is bigger and more decadent than ever.
This is a time of rapid change and progress. A time where nothing and nobody wants to stand still and contemplate. Fashions and musical tastes are evolving. It is a new and modern world with the crackle of radio and exciting new technologies. The mood of London is distinctly 'modern'.
At home, Rosalie now has a daughter, Tatiana, the apple of Harry's eye. Harry's mother Lois is as stoic and supportive as ever. The lively Violette now lives in Paris.
In store, Harry is set to unveil a new monument at the front of the store, the 'Queen of Time', an ornate and specially commissioned clock. New Head of Display Freddy Lyons is arranging the big unveiling, and Harry is optimistic about the positive, lasting legacy it represents.
Mr Grove celebrates his birthday with best friend and colleague Mr Crabb, while Miss Mardle's mysterious absence has clearly left a big hole in Grove's life. We meet Grove's eldest daughter, Meryl, who is now 19. Vivacious and spirited, Meryl desperately wants to work at Selfridge's – but Grove isn't so sure it's a good idea.
Store favourite Kitty Edwards is keen to show off her and Frank's luxurious new abode – they've gone up in the world, again! She invites sister Connie and George for dinner. We discover that they are now married and divulge some news that gives Kitty some serious food for thought.
Harry's son and heir to the Selfridge Empire, Gordon, is now happily married to Grace – with two young sons. We sense that a cool distance between father and son who now runs a slew of provincial department stores owned by Selfridge's outside of London. Gordon is irked when Harry stands him up for a routine meeting, but it's for a very good reason…because Harry unexpectedly receives a very special visitor - Mae. She's back!
But Mae has returned to London hurt and humiliated. She reveals that her husband has left her for a younger woman. Her marriage is over. Ever loyal, Harry resolves to help Mae like she helped him when he first came to London. But does she really want to start afresh in London?
Later, at Colleano's, Harry and Mae are among the privileged crowd that gathers to watch the spectacle: an exhibition-boxing match between an American and a British champion. Harry meets the man Victor arranged it all with, Jimmy Dillon. A sharp and confident entrepreneur, Jimmy takes a fancy to Mae but gets off on the wrong foot with a slightly defensive Harry. Meanwhile, Harry's head is turned by the presence of stunning stage sirens the Dolly sisters, Jenny and Rosie – who clearly have their sights set on Harry.
On the day of the unveiling of the 'Queen of Time', Harry is unnerved to discover that powerful newspaper magnate Lord Wynnstay might be sitting on some uncomfortable stories about his family - which spells trouble ahead. Outside Selfridge's, a band plays and the traffic stops for the grand unveiling, but a shocking incident occurs.
Get the latest updates, reviews and unmissable series to watch and more!
Thank you for signing up to Whattowatch. You will receive a verification email shortly.
There was a problem. Please refresh the page and try again.