They Shall Not Grow Old – BBC2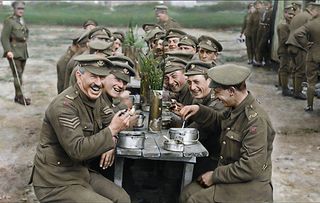 (Image credit: BBC/IWM)
Filmmaker Peter Jackson has restored archive footage from World War One to show what life was like on the battlefield for an epic new documentary.
For the last century, our concept of life in the trenches during World War One has been dominated by tales of tragedy and silent black and white films of soldiers scurrying over the top of the trenches.
Yet in the breathtaking documentary, They Shall Not Grow Old, director Peter Jackson transports us back through history by restoring, colouring and slowing down archive footage to make the soldiers come alive as never before. And he thinks the results may raise a few eyebrows…
'Nowadays we look at these guys with a lot of pity,' says Peter, 57, who brought us The Lord of the Rings trilogy and The Hobbit films. 'We thought the war destroyed their lives, but most of them didn't feel like that. We listened to hours of interviews conducted during the 1960s and 1970s and many of the soldiers said they enjoyed life in the trenches and it made men of them. One described it as an extended scout camp with a bit of danger thrown in!'
The next task for Peter's team was to restore the precious black-and-white footage they'd been given by the Imperial War Museum.
'The footage we see of World War One usually has soldiers walking around like Charlie Chaplin,' he says. 'But once you slow the film down they move like we do. They become human beings again and their facial expressions come alive. It was fantastic to see.I was stunned because I'd never done it before. The results were far better than I'd dared hope!'
TV Times rating; *****
Get the latest updates, reviews and unmissable series to watch and more!
Thank you for signing up to Whattowatch. You will receive a verification email shortly.
There was a problem. Please refresh the page and try again.