Top of the Shop with Tom Kerridge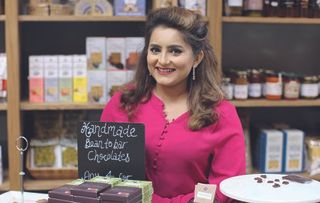 (Image credit: BBC/Studio Lambert)
Four confectioners are set to lay out their wares in a bid to be Top of the Shop this week
It's the turn of four confectioners to lay out their wares in the farm shop.
They then have two days to sell to the locals and impress judges Alison Swan Parente and Nisha Katona.
On display are Devon truffles and Scottish fudge from two of the contestants.
Wajeeha reveals it's her first day of trading since quitting her job and moving to Newcastle to concentrate on artisanal chocolates – will the locals go for her healthy-eating treats?
Meanwhile, Nisha visits Gillian in Manchester, where she's turned a spare room into a Willy Wonka-style HQ for making cocktail-flavoured marshmallows.
Continues tomorrow (8pm), when the artisans tackle cooking sauces. Curry, chilli, caramel… which one's a winner?
Thank you for signing up to Whattowatch. You will receive a verification email shortly.
There was a problem. Please refresh the page and try again.