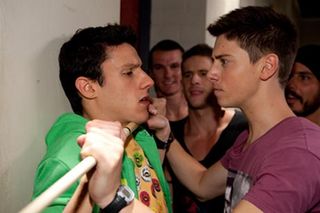 Tyler begins work at the Caravan Park. He asks Ruby out to dinner and tells her that Casey wouldn't care, because he doesn't regret their break-up. Ruby's upset. In the meantime, a frustrated Casey lashes out at Henri during school, earning detention for a week. In detention, he is tempted to reveal to Henri the truth about juvenile detention, and his strained relationship with Heath. Casey then tries to talk to Ruby. She tells him what Tyler said, and Casey is furious. He grabs Tyler and, egged on by Heath, is about to punch him. But he ends up venting his aggression on Heath instead. Gina waits for John to own up about his money problems and is disappointed when he keeps pretending there's nothing wrong. John then learns that the Council is buying the Resort site back from Dennis. He strikes a deal with Dennis to get some of the money back, but then finds out Gina already knows the truth. John tries to make amends but his efforts go awry. Roo regrets her hasty decision to quit working for Harvey and attempts to get her job back. But Harvey reveals she's got competition and she needs to reapply for the position!
Get the latest updates, reviews and unmissable series to watch and more!
Thank you for signing up to Whattowatch. You will receive a verification email shortly.
There was a problem. Please refresh the page and try again.