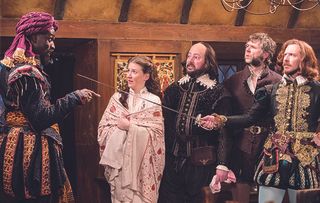 (Image credit: BBC/Colin Hutton)
As Ben Elton's Elizabethan sitcom returns, Will Shakespeare (David Mitchell) is possibly more self-important than ever, and is determined to get a coat of arms so that gentlemen won't look down on his humble beginnings
As Ben Elton's Elizabethan sitcom returns, Will Shakespeare (David Mitchell) is possibly more self-important than ever, and is determined to get a coat of arms so that gentlemen won't look down on his humble beginnings.
Cue a plot that includes befriending African prince Otello and trying to bribe the odious Robert Greene (a wonderful Mark Heap).
David Mitchell's pompous Bard continues to be a delight, and the knowing nods to the present day (doubting a black actor will get to play the lead, predicting the popularity of reality TV) still get the biggest laughs.
Thank you for signing up to Whattowatch. You will receive a verification email shortly.
There was a problem. Please refresh the page and try again.