Wartime horrors haunt a Jewish family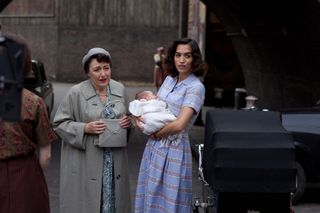 (Image credit: BBC/Neal Street Productions)
Jenny is concerned that a Jewish patient, Leah, is struggling to cope with her mother's sickness and agoraphobia, on top of her own pregnancy. Although her husband is offered a new job and home, Leah knows she can't leave her mother behind after all they went through to survive the Holocaust.
But, with the arrival of new life, it's as if Mrs Rubin is reborn too and with a great deal of effort and help from Sister Winifred, she manages to step outside for the first time in 12 years.
Alec surprises Jenny by asking her to accompany him to Brighton for the weekend. Although she accepts at first, a chat with the girls makes Jenny think his intentions might not be so innocent after all and changes her mind. Later on, unknown to Jenny, there's a horrific accident on the building site which Alec has been overseeing and he is taken to hospital with severe injuries.
As Jenny attends to Leah's labour, a phone call comes through informing her that Alec has taken a turn for the worse. Jenny leaves immediately for the hospital.
Shelagh is bravely trying to cope with the news of her infertility and Sister Julienne suggests she joins the local choir. It's been a disaster since the choir master retired, so Shelagh decides to take it over, and help bring it back to life.
Get the latest updates, reviews and unmissable series to watch and more!
Thank you for signing up to Whattowatch. You will receive a verification email shortly.
There was a problem. Please refresh the page and try again.