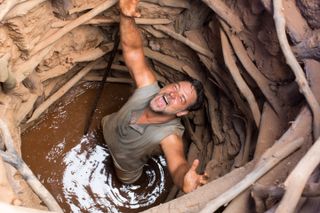 Russell Crowe stars as a dad searching for his missing sons after World War One. 3/5 stars
His character is a grief-stricken Australian who travels to Turkey in 1919 in this well-crafted, but sometimes uneven, drama.
His sons were reported killed in the bloody Gallipoli campaign and the ensuing quest is sometimes stirring, sometimes sentimental and sometimes far-fetched - indeed, it's hard to tell which is more implausible: Crowe's remarkable divining skills, his tentative romance with Olga Kurylenko's Turkish widow or the unlikely scenes of derring-do that see him joining forces with the former enemy, personified by Yilmaz Erdogan's noble Turkish major.
However, Crowe holds things together with his ruggedly sympathetic lead performance and deserves commendation as a director for his film's sensitive handling of the issues of loss and reconciliation.
The portrayal of the Turks is notably generous, though the same can't be said of the depiction of the few Brits on screen, silly asses to a man.
Get the latest updates, reviews and unmissable series to watch and more!
Thank you for signing up to Whattowatch. You will receive a verification email shortly.
There was a problem. Please refresh the page and try again.