Will an emergency reveal Nene's secret?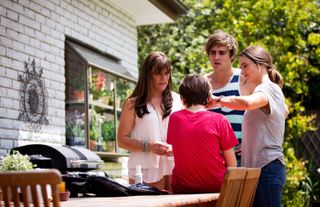 When Jimmy hurts his arm, Amy asks Nene to treat him. But when she makes some questionable treatment choices, Kyle convinces Amy to take Jimmy to Karl. Karl confirms that Nene's method was unusual but assures Kyle that Nene's ex-colleague spoke very highly of her. Nene's upset that Kyle and Amy didn't trust her but Jimmy reminds Nene that Doug really likes her; her patients think she's great and that's all that matters.
Xanthe's convinced Brodie and Piper are soulmates but Piper's floored when Terese invites him to live with them. The tension is too much and, as Piper berates Brodie in furious whispers in the middle of the night, he suddenly kisses her. Brodie then admits he wants to be with her but insists they can't tell her family yet. Piper agrees to keep quiet… for now.
Steph's preparing for the second mediation with Philippa, and Paul decides to use what little money he's made from Robinsons' first week of profit to pay a private investigator to get information on Phillipa. As it turns out, her record is clean, well, except for a bitter ex-husband.
Get the latest updates, reviews and unmissable series to watch and more!
Thank you for signing up to Whattowatch. You will receive a verification email shortly.
There was a problem. Please refresh the page and try again.