Will Andy commit suicide?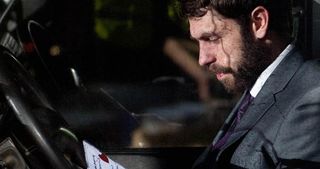 *Hour-long episode*
It's Katie's funeral, the congregation are gathered – and many of them are at breaking point. Realising he has to support his mum, Aaron's forced to attend. Freaking out, he tells a panicked Robert they need to come clean about Katie's death.
But it's grieving widower Andy who's struggling the most, hiding away in Tug Ghyll unable to face it all. At his wits' end, the farmer grabs a bottle of whisky and tears off to the quarry, with suicide on his mind. When Aaron and Robert spy him racing off, will they manage to catch up with devastated Andy before it's too late?
Nervous about her job interview at the college, secret drinker Laurel knocks back vodka for Dutch courage. Can the unemployed mum make it through the door, let alone through the appointment? Back at home, Marlon's already on to his wife's recent lies.
Out in a secluded spot in the countryside, Chas, Vanessa and Leyla prepare to set off fireworks in Katie's memory.
Get the latest updates, reviews and unmissable series to watch and more!
Thank you for signing up to Whattowatch. You will receive a verification email shortly.
There was a problem. Please refresh the page and try again.