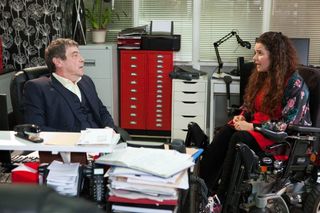 Jenny begs Johnny to be lenient with Izzy as she suffers from such a painful condition. Later, Izzy assures Johnny she never takes drugs before or at work and has no criminal convictions. Johnny promises her that her job is safe and Izzy shares her good news with Gary.
Billy persuades Sarah to return to the font and after apologising to the congregation, the Christening goes without a hitch. As the guests gather at the bistro for Harry and Gail's joint Christening and birthday party, Nick loses his temper and David covers for him. Nick explains he's worried his brain injury could destroy his relationship with Carla.
Will tells Michelle that Saskia has invited another 50 guests to the wedding, and asks her to accompany him to the venue to discuss it with the manager.
Audrey thinks Freddie is great, but Ken finds him annoying. Sophie's disappointed to realise Kate's still in love with Caz. Luke and Maria tell Tyrone and Fiz that they'll be moving in together.
Get the latest updates, reviews and unmissable series to watch and more!
Thank you for signing up to Whattowatch. You will receive a verification email shortly.
There was a problem. Please refresh the page and try again.