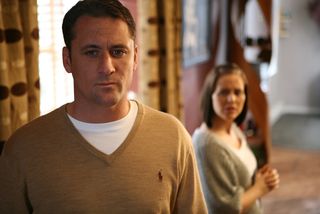 Tony's excited about his new life with Gabby, but he's gutted when Gabby's husband Phil turns up. She panics that Phil will find out she tried to do a flit, but luckily Tony returns all her stuff to her empty house. The two very nearly kiss, but Tony feels guilty and Gabby knows she's not strong enough to leave Phil. It's time to leave. Dom and Cindy are seemingly friends. It fuels Ste's theory that their aggression all week was, in fact, sexual tension. Cindy's all set to welcome Tony home, when he returns with some shocking news. It's Rae's birthday, the day she's destined to die. But she goes to see Jack and Frankie and tells them all about Newt's plan. Meanwhile, Shelly turns up at Newt's, she didn't do a runner - she went for an interview in Scotland. He decides to move to Scotland with her and Jensen, hoping Rae will come. But Rae's been hit with terrible news. Her grandma, Lily, has had a stroke. Also; Suzanne tells Darren getting involved with him was a biggest mistake. Unbeknownst to them both, Rhys listens in on the whole thing. He tells Suzanne she should let Neville know, when he walks in on them all. Suzanne tells him everything. Click here to watch whatsontv.co.uk's weekly soaps video preview, the Soap Scoop
Get the latest updates, reviews and unmissable series to watch and more!
Thank you for signing up to Whattowatch. You will receive a verification email shortly.
There was a problem. Please refresh the page and try again.