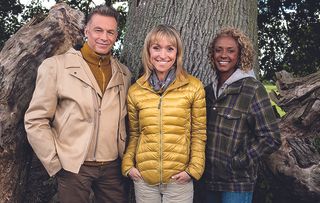 (Image credit: BBC)
The Winterwatch team returns to follow the fortunes of wildlife around the UK from a new location in the Cairngorms
The Winterwatch team returns to follow the fortunes of wildlife around the UK from a new location in the Cairngorms
Join Chris Packham, Michaela Strachan and Gillian Burke tonight, as they return with more Winterwatch from their new year-round home in Scotland's stunning Cairngorms National Park.
The team broadcast live from a teepee on the edge of the ancient Caledonian forest, which is teeming with wildlife from pine martens and wildcats to wood ants and golden eagles.
Fingers crossed these intriguing residents come out to play for the hidden cameras!
Includes special features from naturalist Iolo Williams and Dr Samantha Norton, plus reports from Teesside, Orkney and St Ives.
Continues Wednesday, Thursday and Friday evenings.
TV Times rating: ****
How do you feel about the change in location?
Chris: I was very much one of the team campaigning for this change in approach, to base ourselves for a whole season in one place.
This opportunity to look at Cairngorms through an entire calendar year gives us a great sense of the place.
That sort of completeness is something naturalists crave – we're not so keen on snapshots!
Michaela: There are many huge advantages – you get to know the wildlife and where to find it. The Cairngorms is one of the most beautiful parts of the UK, it's one of the few really wild places left, and that really excites me.
Gillian: It's a magical place. It was formed during the Ice Age, and has changed over time and also through human activity. There's a really big story to be told here.
What would you love to see?
Michaela: The Cairngorms has plenty of exciting, iconic animals – golden eagles, red squirrels, mountain hares, and also much smaller stuff, like snow fleas and wood ants! Very often it's the little things that are most fascinating. I love that about the Watches.
Gillian: Yes, it's lovely to shine a light on small things; they've incredible survival strategies.
I'm filming salmon that spawn in the Cairngorms, downstream from Loch Ness. Salmon is so familiar on our menus – it's the chicken of the fish world!
But it would be great to get people to think about a salmon's mind-blowing life cycle. I'm also in Dartmoor filming Winter moths. They're active while their nemesis, the bat, is hibernating.
It's a lovely example of surprising animal activity at this time of year.
Are you prepared for potentially unpredictable Winter weather?
Michaela: It's always a worry. I'm sure there's a contingency plan if we get a storm – though I don't know what it is!
I always pack every single piece of warm clothing I can find, including hand warmers, thermals and proper boots.
Gillian: A flask is essential! I love being in the elements, and don't mind getting wet and muddy.
Get the latest updates, reviews and unmissable series to watch and more!
Thank you for signing up to Whattowatch. You will receive a verification email shortly.
There was a problem. Please refresh the page and try again.