World's Greatest Palaces - Yesterday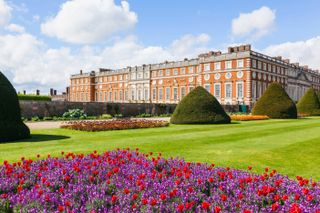 (Image credit: Alamy Stock Photo)
World's Greatest Palaces is a behind-the-scenes look at some of the greatest and most historic buildings in the world
World's Greatest Palaces is a ten-part series ranging far and wide to deliver stories about some of the most important buildings in history.
Tonight's starter focuses on Hampton Court Palace.
This was originally built in 1515 by Thomas Wolsey as a palace fit for a cardinal, but by 1528 Wolsey had passed it to Henry VIII in an attempt to curry favour with the increasingly displeased king.
However, it didn't ultimately prevent Wolsey falling from grace and being ordered to London, where a different palatial building, the Tower of London awaited. Luckily, perhaps, for him, he died en route.
It is no ordinary royal abode and in this opener we learn a huge amount about its colourful history – even down to details about its brickwork and its famous maze.
We also learn that a decision that marked a turning point in British history was made within its walls. It was here that Henry VIII decided to break with Rome and placed himself at the head of the new Church of England.
But this is also the place that was once updated by Sir Christopher Wren, held a performance by Shakespeare and even gave us the term "eavesdroppers".
Future episodes include Schönbrunn Palace in Vienna, where a six-year-old Mozart delighted the court, and Neuschwanstein in Germany, a folly on a grand scale built by the eccentric "Mad King Ludwig".
TV Times rating: ***
Get the latest updates, reviews and unmissable series to watch and more!
Thank you for signing up to Whattowatch. You will receive a verification email shortly.
There was a problem. Please refresh the page and try again.