Zara gets more than she bargained for...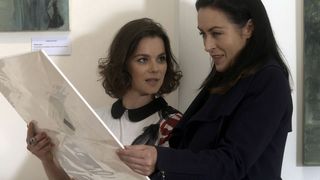 (Image credit: BBC)
Ursula works at an art gallery and, when Zara comes in to collect a picture, Ursula collapses. Meanwhile, her husband Russell is at home getting increasingly hot in his new wetsuit and faints. Zara finds Russell and calls an ambulance as he appears to be hyperthermic. At the hospital, Zara explains to Ursula that Russell could have died from overheating.
It is the open day for the Grainger Clinic and Franc and Daniel have a silly bet on who signs up the most patients. When Zara fails to appear but Emma does, she joins Franc who wins the bet. Back at home, Daniel's furious with Zara for letting him down and won't listen to her reason.
A large box arrives in the surgery reception for Howard. Curiosity gets to Jimmi, Ayesha and Valerie and they unpack it to find an operating table and start to play on it until Howard arrives and denies ordering it.
Get the latest updates, reviews and unmissable series to watch and more!
Thank you for signing up to Whattowatch. You will receive a verification email shortly.
There was a problem. Please refresh the page and try again.