EXCLUSIVE: EastEnders star Danielle Harold reveals heartbreak at Lola and Jay's wedding
Will Lola and Jay's wedding go ahead? Danielle Harold reveals the inside story on their Walford nuptials.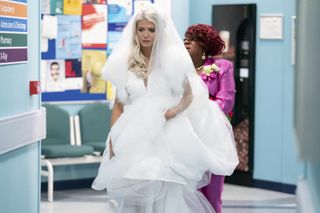 (Image credit: BBC)
The big wedding day in EastEnders has arrived as Lola Pearce (Danielle Harold) and Jay Brown (Jamie Borthwick) get ready to tie the knot in a bittersweet ceremony after Lola's shock brain tumour diagnosis, which has left her loved ones reeling.
But in true EastEnders' style, the day doesn't go without a hitch. First, Lola starts panicking about the future and admits to having cold feet about marrying Jay, then she ends up in hospital with a serious health scare and almost doesn't make it to the register office on time.
Meanwhile, unknown to Lola, Billy has tracked down her mum, Emma Harding (played by Patsy Kensit). But will Emma agree to come to the wedding, and will Lola say 'I do'?
Here, in an exclusive chat with What To Watch, Danielle Harold reveals more…
How is Lola feeling as she prepares to walk down the aisle?
Danielle says: "Lola's never been not too sure about the whole marriage thing in the past, but she starts to get very excited about getting married to Jay and is looking forward to becoming his wife. Despite everything she's going through with her illness, Lola and Jay are in a really good place together, which is lovely!"
How has everyone pulled together to give them the day of their dreams?
"The whole family has been really great in terms of going along with anything Lola wants to do and when she wants to do it. Obviously, her mind's been all over the place because of not being well, but she wants to get things booked quickly and do the most that she possibly can. Kim has also been incredibly supportive. They have a really lovely relationship."
On the morning of the wedding Lola questions whether she wants to go through with it…
"Every bride gets nerves on their wedding day, but obviously Lola has a lot more on her mind because of her illness, and while Denise and Kim are doing her hair and make up she has a bit of a wobble. She's sitting there and she's just not sure what she wants to do. It's not that she doesn't want to marry Jay, it's the thought of the future and what's to come. It's all playing on her mind, especially as the illness is still quite new to her."
Is Lola anxious about putting Jay through so much?
"Yeah, she's worried about how her illness is going to affect Jay. She's so protective over him and she's really aware of how her illness impacting on him. But she's really been trying to be positive and I really wanted to show her positivity in the storyline because that's the character Lola is."
Lola ends up in hospital and Jay arrives at the register office to find she's not there. Is there a fear the wedding won't go ahead?
"Yeah, so she has a bit of a scare and she goes to the hospital with Kim to get checked out. She's definitely suffering physically from the effects of the chemo now, especially with the lead-up to the wedding and all the planning — she's exhausted. But the episode is really lovely because it shows all of Lola's emotions throughout the day. You can definitely see her worries about getting married to Jay and whether to go through with it or not go through with it. It weighs heavy on her mind!"
It's the first time viewers will see Patsy Kensit as Lola's mum Emma Harding. What was it like working with her?
"I'm really pleased we have this part of the story as well. I can't reveal what happens with Lola's mum, but when I heard Patsy was playing her, I was delighted. I love Patsy. She's been great and I've really enjoyed working with her. It's been an honour to have her play my mum!"
Tell us about the wedding dress. Did you have a say in what Lola wears?
"I did! Our costume department are amazing and they're so great in terms of letting us have an input into what our characters wear. So we went for a very princessy dress, but it's very elegant, and it's nice to see Lola not in bright colours for once — although I felt very strange just dressed in white! It's the perfect dress for Lola and there are definitely some Lola touches, like the hoop earrings, which was really important!"
How do you think viewers will react to the wedding episode?
"I definitely think there will be tears. It was an emotional day for me to film it. It's emotional for every character really, which is what's so special about this story, because when something like this happens it touches everyone around you. But there are definitely some really lovely light moments in the story as well, so we had some fun times on set away from all the emotional stuff. It was a lovely few days filming!"
Talking about emotion, how have you found taking on such a hard-hitting storyline?
"It's been the hardest story I've ever done, for sure, but it's also been a real honour to have been given the chance to do it. I mean, this affects so many people, so I'm just trying to raise as much awareness about it as I can through the story. I've also been working really closely with two charities, Macmillan Cancer Research (opens in new tab) and Brain Tumour Research (opens in new tab), and they've been amazing, and the people that I've met who have given me their time — which is the most precious thing for them — have been incredible."
What's it been like working with Isabella Brown, who plays Lola's daughter Lexi, throughout this storyline?
"That little girl definitely has my heart for sure, there are just no words to describe how amazing she is. She's really been getting her chance to shine and I've been so proud of her and how she's taking this storyline on because it's as big for her as it is for me. She's been my little rock throughout it and she writes me little notes of support. Today we've been filming some really hard scenes and she was like, 'I'll hold your hand'. She's become like my little sister!"
EastEnders airs Monday, Tuesday, Wednesday and Thursday evenings at 7.30 pm on BBC One — see our TV Guide for full listings. You can also catch up on episodes on BBC iPlayer now.
Get the latest updates, reviews and unmissable series to watch and more!
Hannah has been writing about TV for national newspapers and magazines ever since the 1990s when she covered the soaps for Woman magazine — and she still prides herself on rarely having missed an episode of EastEnders. Since then she's written for various publications, including What To Watch, TV Times, What's On TV, TV & Satellite Week, Woman & Home, Psychologies and Good Housekeeping.
Apart from EastEnders, her other favorite shows include Succession, Unforgotten, Line of Duty, Motherland and anything by Russell T Davies. When Hannah isn't watching or writing about telly, you're likely to find her enjoying London's latest theatre shows, taking her campervan on a wet UK holiday or embarrassing her teenage kids.
Thank you for signing up to Whattowatch. You will receive a verification email shortly.
There was a problem. Please refresh the page and try again.