Happy Valley finale — the 5 burning questions we need answering in the drama's final ever episode
As Happy Valley reaches its last-ever episode, here are the questions still to be answered in what promises to be a gripping finale.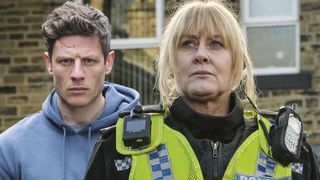 (Image credit: BBC)
All good things must come to an end, even Sally Wainwright's must-watch Yorkshire thriller Happy Valley. Now, after three rollercoaster series, it reaches its explosive finale on Sunday, February 5 BBC One at 9 pm. And there are plenty of shocks and revelations still to come for Sergeant Catherine Cawood (Sarah Lancashire) and her family.
"The intention I had with Sarah was to make it a trilogy," says Wainwright. "We always said Happy Valley season 3 would be the final season and it very definitely is the final season!"
Here, we give the lowdown on the five loose ends that need tying up in the last-ever episode of Happy Valley…
1. Can Tommy Lee Royce pull off his escape to Spain with Ryan?
The penultimate episode ended on a cliffhanger, with murderer and serial sex offender Tommy Lee Royce (James Norton) messaging his son, Ryan (Rhys Connah), via their games consoles and telling him of his plan for a fresh start together in Marbella, Spain. But Tommy only has a matter of days to get Ryan on side and make his escape. So can he do it without evading capture? Will Ryan go along with the plan?
"I waited six years to write the third series because I wanted to get to a point where Ryan was old enough to make choices about whether he wanted a relationship with his dad," says Sally Wainwright. "Because he's now 16, he can do things behind Catherine's back."
2. Will Catherine Cawood and Tommy Lee Royce have one final showdown?
Tommy has plagued Catherine for years, ever since he sexually assaulted her daughter, Becky, leading to take her own life. Since then Catherine has dramatically stopped Tommy from killing Ryan in a murder-suicide plot and has also suffered a brutal assault at Tommy's hands, which left her hospitalized. Now, Tommy's secretly harboring a plot to kill Catherine using a gun supplied by his gangland associate Darius Knezevic, meaning the possibility of one last epic showdown between the old adversaries. Will Tommy be with Ryan (see above) if Catherine catches up with him?
3. Does chemist Faisal Bhatti get his comeuppance for killing Joanna Hepworth?
The drug-dealing chemist lost control and ended up battering Joanna Hepworth with a rolling pin after realizing she'd lied to him. However, despite trying to make it look like her abusive husband, PE teacher Rob Hepworth, was the culprit, Faisal Bhatti (Amit Shah) was also supplying Joanna with diazepam — and if the police trace the pills back to him, the game could be up.
4. Can sisters Catherine Cawood and Clare Cartwright repair their relationship?
Catherine suffered the ultimate sibling betrayal when she discovered the mysterious 'man and woman' taking Ryan to visit Tommy in prison were her sister, Clare Cartwright (Siobhan Finneran) and Clare's partner Neil Ackroyd (Con O'Neill). Catherine initially kept her simmering fury under wraps, but last week's episode saw her verbally tear into Clare with some home truths that left it unclear whether the sisters could ever repair their relationship. But will Catherine be able to move on from Clare's betrayal before it's too late?
5. What will happen to menacing PE teacher Rob?
Rob Hepworth has been revealed as a controlling husband, who met his wife Joanna when she was a Sixth Form student at the school where he was teaching PE. So it's understandable that since Joanna's murder at the hands of killer chemist Faisal, Rob's found himself as the prime suspect. So could Rob take the rap for Joanna's death?
"The frustration levels really rise in Rob and they eventually boil over," says Mark Stanley, who plays Rob. "But with the twists and turns of Sally Wainwright's imagination, you just never know what's next!"
Get the What to Watch Newsletter
The latest updates, reviews and unmissable series to watch and more!
Hannah has been writing about TV for national newspapers and magazines ever since the 1990s when she covered the soaps for Woman magazine — and she still prides herself on rarely having missed an episode of EastEnders. Since then she's written for various publications, including What To Watch, TV Times, What's On TV, TV & Satellite Week, Woman & Home, Psychologies and Good Housekeeping.
Apart from EastEnders, her other favorite shows include Succession, Unforgotten, Line of Duty, Motherland and anything by Russell T Davies. When Hannah isn't watching or writing about telly, you're likely to find her enjoying London's latest theatre shows, taking her campervan on a wet UK holiday or embarrassing her teenage kids.