Meet the Nocebo cast: who's who in the psychological horror movie
Meet the four main characters of Nocebo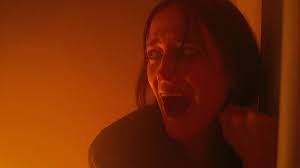 (Image credit: Shudder)
If you're a fan of psychological horror movies, you should check out Nocebo, an Irish film distributed by the horror streaming service Shudder which has been getting pretty good reviews.
Nocebo is about a woman who gets infected by a parasitic illness; when a woman mysteriously arrives to work as a caregiver, her family is suspicious but the carer's treatments work in weird ways.
If you're interested in watching Nocebo, it's on Shudder and DirectTV in the US and Netflix and Shudder in the UK. But if you've seen the movie and are wondering why you recognize the stars, we'll run you through the big names now.
Eva Green as Christine
Christine is the main character of the movie, and she's the mother of Bobs and the wife of Felix. She's a children's fashion designer, but during work, she gets bitten by a flea and subsequently succumbs to a strange illness. Symptoms include body shakes, pains and amnesia.
Eva Green is an actress likely best known for playing Bond girl Vesper Lynd in Casino Royale, but she's also been in quite a few more big projects.
You may have also seen Green in movies like Sin City: A Dame to Kill For, Kingdon of Heaven, Dark Shadows and Dumbo. In the TV world, she's held recurring roles in Camelot, Penny Dreadful and in 2023 Liaison.
Mark Strong as Felix
Felix is Christine's husband and Bobs' father, and he's cynical of the enigmatic caretaker who arrives to look after his wife. However he's not exempt from this woman's strange effect.
Mark Strong is a prolific and distinctive British actor. You may recognize him from the recurring character Merlin in the Kingsmen movies, in Shazam!, Stardust, Sunshine, Kick-Ass or Zero Dark Thirty, or recently in Oscar-nominee Tar.
He has a particular penchant for historical roles like in 1917, Sherlock Holmes, Robin Hood, The Eagle, Oliver Twist, and has also lent his voice to many, many video games including Total War: Rome 2, Warhammer 40,000: Space Marine, Battlefield V and many tie-ins for movies he's been in.
Chai Fonacier as Diana
Diana is a carer who mysteriously shows up to help Christine, and lives with the family to do so. She's shown to have a troubled past and unknown intentions, and possibly-mystical powers.
Chai Fonacier is a Filipina actress who's largely stuck to playing roles within the country, so unless you're an aficionado for film and TV from the Philippines, you may not have seen her in much. If you have, she's been in Born Beautiful, Respeto, Jesus is Dead and Asuang.
Billie Gadson as Bobs
Bobs (or Roberta, to people who aren't her friends) is the young child of Christine and Felix. She's initially wary of Diana but they slowly form a bond.
Billie Gadson is a young actress but she's already been in Hollywood movies, having played a younger version of the main character in Disney's live-action 101 Dalmations prequel Cruella. You have have also seen her in The Midwich Cuckoos, The Spanish Princess and Quiz.
Get the What to Watch Newsletter
The latest updates, reviews and unmissable series to watch and more!
Streaming and Ecommerce Writer
Tom is the streaming and ecommerce writer at What to Watch, covering streaming services in the US and UK. His goal is to help you navigate the busy and confusing online video market, to help you find the TV, movies and sports that you're looking for without having to spend too much money.