Meet the Star Trek: Picard season 3 cast — who's who in the final season
The past meets the present in Star Trek: Picard season 3.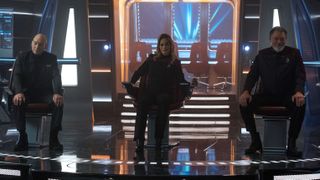 (Image credit: Trae Patton/Paramount+)
As Star Trek: Picard heads into its final season, fans have a chance to reconnect with familiar faces from Picard's past. Not only will members of the Picard series be back in action, but the entire cast of Star Trek: The Next Generation is returning to join Picard for one last adventure together.
Let's meet the cast of Star Trek: Picard season 3.
Sir Patrick Stewart as Jean-Luc Picard
Admiral Jean-Luc Picard has enjoyed a long career in Starfleet. Even though his days as captain are over, Picard hasn't had much time to enjoy retirement. The first two seasons saw him saving the world, but at the start of season 3 he's happy settling into a quieter life at the family home in Labarre, France, with his girlfriend Laris. But can it last?
Sir Patrick Stewart has been acting longer than Jean-Luc Picard has been in Starfleet (or pretty darn close). From memorable roles like Professor Charles Xavier in the X-Men franchise (as well as the latest Doctor Strange movie) to Ebeneezer Scrooge, and even as the voice of Poop in The Emoji Movie, Stewart has long delighted audiences with his baritone voice and warm smile that light up any room he's in.
Michelle Hurd as Raffi Musiker
Raffi has been through a lot over the course of her time on Star Trek: Picard. We first meet her when she's disillusioned with Starfleet and living as far away from her old life as possible. She returned to Starfleet with a position aboard the Excelsior after helping Picard fight the Romulans at the end of season 1.
Michelle Hurd has been in a number of shows over the years, including the Lethal Weapon series, Hawaii Five-0 and the Marvel Wastelanders: Hawkeye podcast. Prior to her role as Raffi in Star Trek: Picard, she was best known for playing Ellen Briggs in Blindspot.
Jeri Ryan as Seven of Nine
Seven of Nine came back from the Delta Quadrant on Voyager. She tried to enlist in Starfleet, but as a former Borg the Federation wasn't ready to welcome her into their ranks. In the first season of Picard she's working as a Fenris Ranger, but after reconnecting with Picard she eventually finds herself back at Starfleet, only this time they welcome her thanks to a push from Picard and Admiral Janeway.
Jeri Ryan had been taking on guest starring roles for years, but her career took off when she was cast as Seven of Nine in Star Trek: Voyager in 1997. After the series wrapped in 2001, she went on to star in Boston Public, The O.C., Shark and Body of Proof, while continuing to make appearances in a number of other shows.
Jonathan Frakes as William Riker
William Riker was enjoying life with his wife, Deanna Troi, and their daughter, Kestra, on the planet Nepenthe. They'd settled on Nepenthe in an effort to help their son Thaddeus recover from a virus, but after he died they remained there. Though no longer an active duty member of Starfleet, he was quick to jump back into action to help Picard fight the Romulans in the first season. If there's one thing we know for certain, it's that when Picard needs help, Riker will always answer the call.
Early in his career, a young Jonathan Frakes starred in The Doctors in the late 1970s. He went on to play a number of guest roles before taking on the role of Commander William Riker in Star Trek: The Next Generation in 1987. The role would change the trajectory of his career; after the series ended he starred in the feature films that followed. He continued making appearances in various guest roles, but his main focus was on directing and lending his voice to animated projects. Notably, he voiced the character of David Xanatos in Gargoyles and he voiced Riker in Star Trek: Lower Decks.
Marina Sirtis as Deanna Troi
Commander Deanna Troi followed her husband William Riker to the Titan after he was promoted to captain. She retired from Starfleet to focus on raising her family on Nepenthe. The loss of her son, Thaddeus, is something that continues to haunt her, especially because the technology to save him existed but it was outlawed because it was tied to synthetic life forms and all synthetic research was banned. She and her family live a simple life, but a good life on Nepenthe, but like her husband, she's ready to help when Picard needs it.
After starring in Star Trek: The Next Generation, Marina Sirtis made guest appearances in a number of shows while also voicing a number of animated characters. She also voiced Troi in Star Trek: Lower Decks.
LeVar Burton as Geordi LaForge
Though we haven't seen Geordi LaForge since Star Trek: Nemesis, when he was still the chief engineer of the U.S.S. Enterprise-E, Picard knows he can still count on Geordi for help when he needs it
Prior to becoming Geordi La Forge on Star Trek: The Next Generation, LeVar Burton was known to legions of young fans as the host of the educational series Reading Rainbow. His breakout role came from Roots in 1977. After TNG wrapped, he continued to show up in various series while also lending his voice to several animated projects. You might remember the big push for Burton to host Jeopardy!; he'll be hosting his own trivia show, Trivial Pursuit, in the near future. Burton's return to the Star Trek world is deeply personal as his daughter Mica joins him in the series.
Michael Dorn as Worf
Worf moved on to a new position on Deep Space 9 after the Enterprise-D was destroyed. He started a new life there, marrying Jadzia Dax. As the lone Klingon in Starfleet, he had experience that no one else had, so it's no surprise he went back to the Klingon homeworld and defeated Chancellor Gowron. Worf wasn't interested in becoming the new chancellor, so he passed the title to Martok and eventually became the official ambassador to the Federation.
Michael Dorn's Worf has appeared in more episodes than any other character in the franchise, so returning to Star Trek: Picard gives his record another boost. Outside of Star Trek, Dorn has lent his voice to a number of animated projects and video games, and his voice can be heard in the popular Arrow series, where he voiced the character Prometheus. He also had a recurring role in Castle.
Gates McFadden as Beverly Crusher
Of all his former shipmates, Picard seems to have been in contact with all of them except for Beverly Crusher. Given his long history with her, her late husband Jack (who was Picard's best friend) and her son, Wesley, it's odd they haven't been in touch at all. The last time we saw Beverly was on the Enterprise-E, but there's been no mention of her since that point.
Gates McFadden has made a few appearances on various TV shows after Star Trek: The Next Generation, and like many of her costars she has done a lot of voice acting. She played a judge in a recurring role on Franklin & Bash and she voiced Beverly Crusher in an episode of Star Trek: Prodigy.
Brent Spiner
We don't know how Brent Spiner fits into Star Trek: Picard season 3 given that Data is officially dead. Of course, Data's death doesn't mean there's no place for Brent Spiner because Data's appearance is based on his creator, Dr. Soong. Evidently, the Soong genes are very strong because Spiner has been able to play different members of the Soong family across many generations and series; he played Dr. Arik Soong in Star Trek: Enterprise. We'll update this section once we learn more about Spiner's role in season 3.
Spiner is best known for his role as Data, of course, but he's been very prolific outside of the Star Trek universe. In addition to a great deal of voice work, he's appeared as himself on The Big Bang Theory, as well as recurring roles in Fresh Hell, Ray Donovan and Threshold.
Todd Stashwick as Liam Shaw
Todd Stashwick joins the cast in Star Trek: Picard season 3 as Captain Liam Shaw, commander of the Titan. We don't know much about Shaw just yet, so we'll provide updates as soon as we learn more about him.
Stashwick is best known for his role as Deacon in the TV series 12 Monkeys and Father Kieran O'Connell in The Originals. He's made dozens of guest appearances over the years, including a guest role on an episode of Star Trek: Enterprise in 2004.
Ed Speleers as Jack Crusher
We don't know much about Jack Crusher (other than the glaringly obvious connection to Dr. Beverly Crusher), so as soon as we learn more, we'll add it in here.
Ed Speleers is a UK native who is best known for roles in Downton Abbey, Beowulf: Return to the Shieldlands and Outlander. He can also be seen in a recurring role in the new season of You.
Star Trek: Picard season 3 is available to watch exclusively on Paramount Plus.
Get the What to Watch Newsletter
The latest updates, reviews and unmissable series to watch and more!
Editorial Content Producer
Sarabeth joined the Watch to Watch team in May 2022. An avid TV and movie fan, her perennial favorites are The Walking Dead, American Horror Story, true crime documentaries on Netflix and anything from Passionflix. You've Got Mail, Ocean's Eleven and Signs are movies that she can watch all day long.
When she's not working, Sarabeth hosts the My Nights Are Booked Podcast (opens in new tab) and blog (opens in new tab) dedicated to books and interviews with authors and actors. She also published her first novel, Once Upon an Interview (opens in new tab), in 2022.