The No 1 most romantic soap moment revealed as we rank them
Love was definitely in the air for this lot, but which couple have won our crown for the most romantic moments in soap?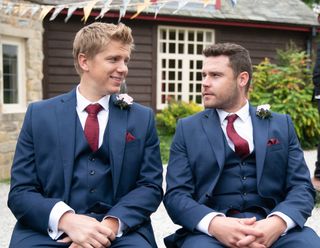 (Image credit: ITV)
What are the most romantic moments in soap?
In soap there's really no such thing as a perfect love story, and it's rarely all hearts and roses. But then there are those wonderful fairy-tale moments that happen and steal the audience's hearts. From the iconic couples that audiences can't get enough of, to memorable marriage proposals and magical weddings that made us blub like a baby.
So without further ado, let's take a nostalgic trip down memory lane to reminisce over all the soppy moments in EastEnders, Coronation Street, Emmerdale, Hollyoaks, and Neighbours and get ready to go ahhh...
1. Scott and Charlene's iconic wedding — 'Neighbours'
Especially for you (get it?) we're saying Neighbours' had the most romantic moment in soaps ever, so there!
Yep, the iconic wedding of Scott Robinson and Charlene Mitchell. The relationship between the teen sweethearts, played by future pop superstars Kylie Minogue and Jason Donovan, captured hearts across the globe, and fans couldn't wait to see their favourite couple tie the knot.
Two million viewers tuned in when the wedding was first broadcast in Australia on July 1, 1987, and after waiting over a year, a UK audience of 20 million got their chance to watch the ceremony when it aired on November 8, 1988. Charlene and Scott exchanged vows to the soundtrack of Angry Anderson's power ballad Suddenly, and the young lovebirds celebrated their union with a reception back home on Ramsay Street.
This year will mark their 35th wedding anniversary, and as far as we know Scott and Charlene are still living happily ever after in Brisbane. Yay!
2. Jim proposing to Dot on the London Eye — 'EastEnders'
Serving up a helping good old fashioned romance and showing the young'uns how it's done is Jim Branning and his unforgettable marriage proposal to Dot Cotton. Shortly after arriving in Albert Square, reformed bad penny Jim set his sights on Dot and began trying to woo the god-fearing widow.
Their courtship was a real slow-burner as prudish Dot objected to Jim's amorous advances (oh I say!) and rejected his offers of marriage, but the besotted pensioner was not put off. Knowing he needed to up his game, Jim surprised Dot with a trip to the London Eye in November 2001.
While they were admiring the sights of the city, Jim got down on bended knee and asked his Dorothy to marry him, and this time she said yes. The golden oldies were married the following Valentine's Day, and remained devoted to one another until Jim's death in 2015.
3. Robron's love story — 'Emmerdale'
Name a Dales duo more iconic than Robron. These lads really did put their adoring fans through the wringer with their countless break ups, but when things were good between them, they were very, very good. One of the most memorable moments in their love story was when Robert decided to ask Aaron to be his husband.
In true Robron fashion events took a dramatic turn when Robert proposed mid-argument while they were speeding down a motorway, and before Aaron had chance to respond he plunged the car into a freezing lake. In the ultimate act of love, Robert saved Aaron from drowning, and kept vigil by his hospital bed.
When he did finally regain consciousness, Robert got the answer to his question when Aaron removed his oxygen mask and whispered, "yeah". No, you're crying.
Four years on from their first kiss, the couple finally made it official in 2018 when they tied the knot in a beautiful ceremony held outside the village hall. And the verdict of the day from their loyal army of fans? Pure perfection.
4. Kat and Alfie's white wedding — 'EastEnders'
They say opposites attract and that certainly was the case for loveable landlord Alfie Moon and brash barmaid Kat Slater. Alfie fell hard for Kat, but it wasn't until just before she was due to marry dodgy gangster Andy Hunter that he discovered she felt the same.
After crashing the wedding - The Graduate style - Alf declared his love and got his girl. The couple became engaged and set the date for Christmas Day 2003, but then Alfie found out he was still married to his ex-missus, Liza. He tried to solve the problem by getting his mate Ray (played by Little Britain star David Walliams) to pose as a registrar and perform a fake ceremony but was saved at the last minute when his decree absolute arrived. Phew!
After all that fiasco, the happy couple exchanged vows in front of their families and the real registrar, with Kat looking ravishing in a festively appropriate red dress. In a final romantic touch, Alfie hired a snow machine and surprised his new wife with the white wedding of her dreams.
5. Nick and Leanne's teenage elopement — 'Coronation Street'
Back in 1997 when Nick Tilsley was all rippling abs and blonde curtains, he started going out with Weatherfield wild child Leanne Battersby. Their relationship raised local eyebrows, and Nick's overprotective mum Gail strongly objected to the union, believing Leanne wasn't good enough for her precious son.
The young lovers were determined to prove their haters wrong and ran off to Gretna Green to get wed in secret. After exchanging vows, Nick and Leanne returned home man and wife and revealed the truth to a horrified Gail, who realised she could no longer keep them apart.
Sadly their first marriage crumbled after a year, and their second in 2013 didn't last much longer, but now older and wiser, Leanne and Nick have found their way back to one another. Will they make it third time lucky?

6. John Paul and Craig's sunset ending — 'Hollyoaks'
Hollyoaks' John Paul McQueen and Craig Dean - aka McDean - were the first gay soap couple to gain a cult following when they hooked up in 2007. JP was out and proud, but Craig had a girlfriend and was still coming to terms with his sexuality, which meant they initially had to conduct their affair in secret.
The lads' eager army of shippers, dubbed the McDeaners, championed their relationship from the word go and were buzzing as their boys made their relationship official.
When it was announced actors Guy Burnett and James Sutton would be leaving the soap, the McDeaners campaigned for their couple to be given a 'sunset ending'. And their wish was granted by the soaps' writers when John Paul and Craig left Chester to start a new life together in Dublin. Their relationship might not have worked out, but at least we have the memories, eh?
7. Billy and Little Mo's adorable engagement — 'EastEnders'
The award for the most adorable soap proposal surely must go to Billy Mitchell when he spelled out 'Marry Me' with alphabet spaghetti on Little Mo Slater's dinner plate.
Having endured horrendous abuse at the hands of her first husband Trevor Morgan, Little Mo emerged from the marriage a fragile shell. Her gentle romance with kind-hearted Billy slowly helped Mo regain her confidence, and when he popped the question with pasta she didn't hesitate in saying yes. The happy couple got married in a magical church ceremony on Christmas Day 2002.
8. Carl King daredevil marriage proposal — 'Emmerdale'
Within months of arriving in the Dales, ladies man Carl King fell hook, line and sinker for gobby Chas Dingle. Desperate to make her the next Mrs King, Carl popped the question with an expensive diamond ring - but it was going to take more than a big rock to impress Chas, who played hard to get and turned him down.
To show Chas just how serious he was about them, Carl announced he would challenge his fear of heights by performing a plane wing walk. He stayed true to his word and stood, petrified, on the wing of a flying plane, while Chas watched on the ground below. Overwhelmed by his death-defying declaration, Chas said yes when Carl got down on bended knee again.
Unfortunately the lovers never made it down the aisle, but Carl got a solid ten out of ten for effort for that proposal.
9. Chryed say I do — 'EastEnders'
What started out as a stolen snog between co-workers Syed Masood and Christian Clarke in 2009 quickly turned into a passionate love story that broke boundaries.
Muslim Syed risked his faith and love of his family to follow his heart and after finding the courage to admit he was gay, he moved in with Christian to make a proper go of things. Syed eventually reconciled with his parents as they slowly began to accept his sexuality, and he asked Christian to marry him.
Their civil ceremony, which was EastEnders' first gay wedding, took place in the Masood family restaurant The Argee Bhajee - and there wasn't a dry eye in the congregation as the couple exchanged vows and rings.
10. Rana and Kate's double proposal — 'Coronation Street'
Rana Habeeb and Kate Connor may have been from different religious backgrounds, but that didn't stop thousands of fans worshipping their forbidden love affair.
After calling time on her marriage to hubby Zeedan to be with Kate, Rana faced prejudice from her family, who opposed to her being romantically involved with a woman. But the ladies were determined no one was going to stand in the way of their happiness. With Rana away on a cruise, Kate made arrangements to pop the question to her other half, unaware Rana was also planning a marriage proposal of her own.
On Bonfire Night 2018, Corrie fans rejoiced when the girls were reunited and pulled out ring boxes at exactly the same time. Unable to contain their excitement, Kate and Rana responded with a mutual yes and gave one another a huge hug, as their teary loved ones looked on.
Get the What to Watch Newsletter
The latest updates, reviews and unmissable series to watch and more!
Laura has been a journalist for over a decade, writing about soaps, TV entertainment, fashion, beauty, and food. After graduating from university, she started her career working at a national soap and TV magazine. During her seven-year stint there she joined the cast of Emmerdale for a tour around the famous village, partied with soap stars at awards bashes, interviewed her acting idol David Suchet, and sat in the front row of Strictly Come Dancing.
Her heart lies with the soaps, and her all-time favourite character has to be EastEnders' Pat Butcher - no one rocked a big earring quite like her. She's also a huge fan of detective crime dramas, particularly old school Inspector Morse, Endeavour, and adaptations of Agatha Christie's Marple and Poirot. When she's not writing, she loves a spot of second-hand shopping and going on adventures with her young son.