Who is Police Constable Kelby Hartford in Beyond Paradise?
Beyond Paradise introduces us to a new host of characters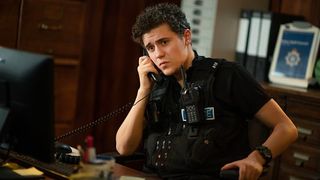 (Image credit: BBC)
A spin-off of Death in Paradise, Beyond Paradise relocates the action from the tropics to the fictional town of Shipton Abbott, with the constabulary of the Devonshire town forming our new cast of characters.
One of these is Police Constable Kelby Hartford, and that's who we meet now...
Who is Police Constable Kelby Hartford in Beyond Paradise?
The BBC's profile (opens in new tab) for Kelby Hartford doesn't exactly paint a flattering image of the man: it describes him as "a bit slow maybe".
Hartford was raised by a helicopter parent who didn't let him learn or grow on his own, and because of this, he's naive and green to the ways of the world. A product of Shipton Abbott, his confidence and bravado makes up for his inexperience.
The events of Beyond Paradise give him a chance to remedy that, as actor Dylan Llewellyn described several action chases Hartford gets to participate in. A large driving force behind this change is the arrival of DI Humphrey Goodman, the main character of the show. Llewellyn explained Hartford "sees [Goodman] as almost a father figure".
Hartford enjoys a close connection with the other members of the force, acting as the 'kid' of the group, partly because of their jobs but also partly because of the close-knit community of Shipton Abbott.
"Everyone sees him as a little brother, so I think they all look after him. Margo and Esther are very close to Kelby, I can imagine they know his family well too! You can see their close-knit friendships play out on screen. Kelby and Margo have a bit of back and forth, butting heads at times, but there is still a lot of love there," says Llewellyn.
He adds: "Audiences will really enjoy Beyond Paradise because of the similarities and differences between this, and Death in Paradise. The series will be easy to watch with great plot lines and actors."
What else have I seen Dylan Llewellyn in?
Llewellyn has held recurring roles in several TV dramas, playing Martin Johnson on Hollyoaks, Jack in Big Boys and James "the wee English fella" Maguire in Derry Girls. He also played in Danny Boyle's Sex Pistols biopic Pistol as Wally Nightingale.
British TV fans might also recognize him from smaller other roles as he was in a single episode of Call the Midwife in 2020, four episodes of Holby City in 2013 and an episode of The Bill back in 2010.
Llewellyn described Hartford as a nice change of pace: "Finally, I'm playing an adult! It's been fun and different in comparison to playing an awkward teen or a university student."
Get the What to Watch Newsletter
The latest updates, reviews and unmissable series to watch and more!
Streaming and Ecommerce Writer
Tom is the streaming and ecommerce writer at What to Watch, covering streaming services in the US and UK. His goal is to help you navigate the busy and confusing online video market, to help you find the TV, movies and sports that you're looking for without having to spend too much money.