Fiona Hampton: 'Lulu slaps Michael's daughter!'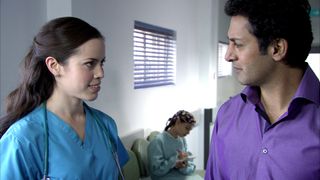 (Image credit: BBC)
Michael dumps Lulu in next week's Holby City – and she takes it really badly, as actress Fiona Hampton reveals... How would you describe Lulu? "She's a bit of a madam, she's very much used to getting her own way. She's slightly misguided and a little naive at times, but she's very ambitious and eager to make an impression to get to the top!" Lulu's recently got her claws into Michael Spence. How does she really feel about him? "I think she does genuinely like him. Michael's a very powerful man within the hospital, she's quite young, so she's excited about their affair. She does end up falling for him and is desperate for things not to fall apart. But of course they end up doing just that." Could this have anything to do with Michael's little daughter Jasmine, who's visiting the hospital? "Yes. Jasmine is quite headstrong and is not afraid to speak her mind. When Jasmine tells Lulu what she thinks of her, Lulu lashes out and slaps her! Lulu realises she's made the biggest mistake." How does Michael react when he finds out? "Michael's juggling too many balls in the air and Lulu's the first one to be dropped. It's the first time she's received such a big rejection so she's incredibly hurt and ends up being a little bit nasty..." Particularly with her fellow Holby colleagues...? "Yes. I could have been killed off in some big explosion, but Lulu just gets to lay into everyone when she leaves. It was so much fun." Do you think this is the last Holby has seen of Lulu? "When I left, there were talks about me coming back so, as my character hasn't been killed off; there could be a chance she'll come back, you never know." Holby City screens on Tuesday at 8pm on BBC1.
Get the latest updates, reviews and unmissable series to watch and more!
Thank you for signing up to Whattowatch. You will receive a verification email shortly.
There was a problem. Please refresh the page and try again.