Holby's Paul Bradley: 'I probably could take someone's heart out, but they wouldn't survive!'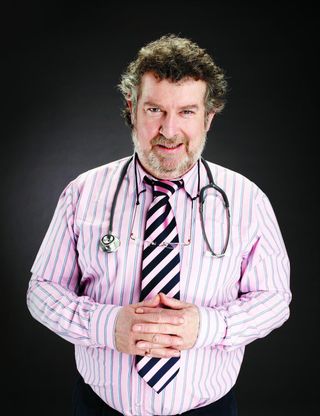 Holby City (opens in new tab) star Paul Bradley tells TV Times magazine (opens in new tab) about his character's confusing health crisis and why pretending to be a doctor is his limit.
We hear that Elliot Hope receives some dire health soon…
"Elliot's not been feeling right for a while and has been suffering these little memory lapses and confusions. Because he's so bumbly, people think it's because of that and Elliot keeps postponing his tests – he wants to know, but he's also in denial. Often doctors are the worst patients. They have their egos and they don't want to admit it's happening. Ironically, they often don't look after themselves as well as they should."
How do people around him react to his diagnosis?
"People rally around and cover up for him out of regard and worry for him. But they're also being clever because they're also pushing him out the way, so he does start to feel sidelined."
Do you ever find the lines with playing a doctor become blurred for you?
"When you see all the things that could possibly happen in every episode of Holby, you do worry! You find yourself thinking, 'Well I'm a doctor, so I'm all right', but actually, you ain't! I was on a flight to America when a passenger started having a heart attack. The stewardess got on the phone, but she was looking at me and said, 'Is there a real doctor on the plane?!'"
Do you think you could be any help at all?
"I could probably put someone in the recovery position. Actually I could probably take someone's heart out and make it look good. You just wouldn't survive it…"
What do you think the future holds for Elliot?
"Elliot's great fun. They do try and write these funny bits, although that's been harder with this storyline. It was tricky doing that. You have a responsibility to be as true to your character as possible, but it's been so well-written it's been a joy to do. It's a privilege to act every day. There are so many actors out of work that I don't take it for granted and always try to give my best."
We still remember you from playing Nigel in EastEnders in the 90s. Would you ever go back?
"When I left EastEnders I got offered a lot of Nigel sort of parts and I thought that if that was all I was going to get, I might as well go back. But I don't think I would now. That show, more than any other, creates a vintage like wine. The circumstances that bring about a certain wine need to be the same. I think I come from a different era. Now the only person Nigel would know is Dot Cotton!"
Get the latest updates, reviews and unmissable series to watch and more!
Thank you for signing up to Whattowatch. You will receive a verification email shortly.
There was a problem. Please refresh the page and try again.