Who will Tara date - Ollie or Jac?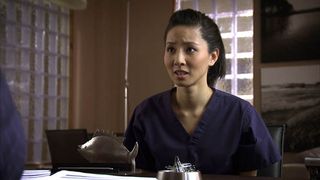 Holby City's junior doctor Tara Lo kisses Ollie, but then gets an offer she can't refuse from Jac, actress Jing Lusi reveals... Tell us about the tension between Tara and Ollie this week... "Tara asks Ollie for advice about a patient, new mum Alana, who turns up at Holby fearing she has lung cancer. No one believes her, suspecting she's showing symptoms of postnatal depression, but Tara thinks Alana is genuinely very ill and wants to investigate. When Ollie's less than supportive, Tara asks him outright if he's distant with her because they almost kissed recently." Tara then impresses fearsome Jac Naylor by diagnosing Alana with a rare condition. Is she proud of herself? "She's ecstatic! When an MRI scan confirms Tara's diagnosis, Jac gives her the nod of approval, which to Tara is like winning a Nobel Prize. When Jac leaves, Tara's bursting with excitement and as Ollie goes to give her a high five, Tara pounces on him and they kiss!" What was it like filming the kissing scenes with James Anderson, who plays Dr Oliver Valentine? "Well, James is 6ft 1in and I'm about 5ft 2in, so I almost had to take a running jump to kiss him. We filmed the scene about 20 times and James had stubble, so by the end of it I had chin rash. But James is lovely to work with – and he's not bad looking either!" Also that day, Tara goes for an MRI scan with Hanssen to see if her brain tumour has grown. Is she nervous? "She's very nervous about the scan, but she knows she must have regular tests to keep her job – that was the deal she made with Hanssen. She's delighted to hear that the tumour hasn't grown." In light of the good news, will Tara finally decide to put love before work? "Not exactly. Ollie and Tara arrange to go for a drink after work, but when Jac offers to look at Tara's research project that night, Tara's forced to choose between a date with Ollie or a date with Jac. Tara's delighted to finally be in Jac's good books, so she chooses Jac!" Would you like to see a future for Tara and Ollie? "Yes, I would. Knowing Holby, it could be a tragic or beautiful love story, so it'll be interesting to see which way it goes. Whatever happens, if there's any more kissing, James will have to shave!" Holby City moves to BBC2 throughout the Olympics. Tune in at 8pm.
Get the latest updates, reviews and unmissable series to watch and more!
Thank you for signing up to Whattowatch. You will receive a verification email shortly.
There was a problem. Please refresh the page and try again.