'This cervical cancer story is the hardest I've done,' says Hollyoaks' Anna Passey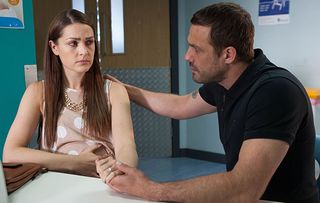 Mum-to-be-of-twins Sienna Blake faces a dramatic life-saving or life-ending operation in Hollyoaks! Anna Passey opens up about the drama
She's done some mad and bad things, but you can't help feeling sorry for Sienna Blake as she prepares to have cancer surgery that may kill her unborn twins. "She's terrified and struggling to hold it together," Anna Passey told Soaplife.
Will her babies survive and is her cancer curable?
What's going on in Sienna's head? "She's really frightened and she's not trying to hide it. Her first priority is the safety of the babies. She's afraid of what will happen to them and, on top of that, there's the issue of her own health. It's a risky operation and there's a high chance that things could go wrong."
How does she feel about Warren now? "They've had a rough time together and they've been mistrustful of each other. But before the operation, he gives her a necklace and he reassures her that everything will be okay because the babies are little Foxes. They're in a strong place and Sienna feels reassured."
So, why does she run away from the hospital? "She makes out that it's because she's lost the necklace that Warren [Jamie Lomas] gave her, but she doesn't really want to have the operation. She wants to give birth to the babies safely and having to go in and be operated on is too much for her. Kim Butterfield finds her in The Folly and she manages to talk some sense into her."
How will she cope if her babies die? "I honestly don't see her coming back from that. She'll have to have a hysterectomy once these babies are born, if indeed they are, so this is her last chance to become a mum again. Everything went wrong when she had her daughter, Nico, and, if she were to lose these babies now, it would be so unbelievably cruel."
She's had a terrible time... "I know! I feel that every time she comes through something, the writers get together and say, 'What can we test her with now?'. This is the hardest story I've done so far. They sold it to me on the grounds of it being a story that raises awareness of cervical cancer so I'm nervous about getting it right. And I feel for Sienna. She deserves some credit for just getting up in the mornings. She's the toughest woman in Hollyoaks!"
Hollyoaks, Channel 4
Get the latest updates, reviews and unmissable series to watch and more!
Thank you for signing up to Whattowatch. You will receive a verification email shortly.
There was a problem. Please refresh the page and try again.