'Cindy thinks Armstrong is trying to kill her!' reveals Hollyoaks' Steph Waring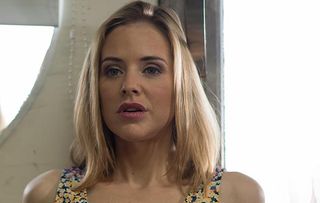 Hollyoaks' Cindy Cunningham may have narrowly escaped the clutches of crazed stalker DS Gavin Armstrong, but there are still dangerous times ahead for her, reveals star Steph Waring
After the horrors that occurred at the Liverpool Powerful Women Conference with dodgy DS Gavin Armstrong, Cindy Cunningham is a nervous wreck, worrying the sinister cop is lurking somewhere in the shadows, watching her every move.
"She's terrified," Steph Waring told Soaplife. "She doesn't feel safe at all, anywhere."
Is Cindy still in shock? "She's anxious and paranoid. Armstrong [Andrew Hayden-Smith] was the one person she thought would protect her. He was her knight in shining armour, but it all came as a terrible shock when he tried to kiss her and Leela Lomax texted her with a warning."
What's this doing to her mental state? "It's bringing on a bipolar episode. Cindy starts pulling TVs apart and looking for bugs, cameras and stuff. She thinks there are things hiding in the walls and she can't sleep. It's awful for her. She has an alarm that lodger Milo Entwistle gives her and she carries around the whole time."
Then she thinks Armstrong is in the house! "Her partner, Dirk, gives her some sleeping pills, Cindy falls asleep on the sofa and she wakes up, thinking Armstrong is standing over her. She screams and Dirk runs in, but there's nobody there. Dirk thinks it was a dream, but Cindy's certain he was there."
What does Cindy think Armstrong wants from her? "She really thinks he's trying to kill her and that's what makes this so horrific. It scares her that he's clever and manipulative. She doesn't know what to expect next."
Do you know what happens next? "Unfortunately for Cindy, things are going to get worse for a while."
Hollyoaks, Channel 4
Get the latest updates, reviews and unmissable series to watch and more!
Thank you for signing up to Whattowatch. You will receive a verification email shortly.
There was a problem. Please refresh the page and try again.