Ex-Hollyoaks star Jorgie Porter finds new fame in the musical Fame!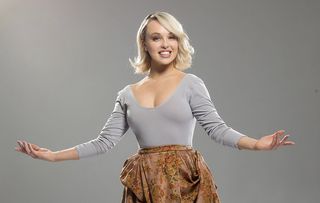 (Image credit: Michael Wharley)
Jorgie Porter, who played Theresa McQueen in Hollyoaks, tells Soaplife about her new stage role touring in the musical Fame!
The door was left open for Jorgie Porter when Theresa McQueen packed her bags in 2016 and left Hollyoaks for Spain. It wasn't the most dramatic exit but did leave the possibility of a return. But, for now, Jorgie is far too busy…
What's the story?
Actress Jorgie Porter has left TV behind - for now – and is loving her new role, touring with the musical Fame!
What's happening in Hollyoaks? See the latest soap storylines
Ex Hollyoaks star Jorgie Porter talks to Soaplife about appearing on stage in Fame!
Soaplife: Fame! You're going to live for ever!
Jorgie Porter: "Ha ha! I don't know about that, but I am appearing in a brand new UK tour of the famous musical, Fame! I'm playing a character called Iris Kelly. She's a ballerina, who's had a tough upbringing, but she's pretending she's from a wealthy family. But then she falls in love and we start seeing the real Iris."
S: We take it you'll be doing a lot of ballet!
JP: "Quite a bit. But that's fine because from the age of three I've always done dance. I always imagined I'd be a dancer, but then I got the role as Theresa McQueen in Hollyoaks."
S: And we hear that went on longer than you expected…
JP: "Yes. It was only supposed to be for three weeks, but I was there for eight years! I'm not just doing ballet, though. I get to do all kinds of dancing and it's brilliant. Hard work, though. I wake up in the morning and I can hardly move!"
S: This is your first theatrical tour, isn't it?
JP: "Yes, and I'm really excited about travelling around the UK and playing to live audiences. There's something special about performing on stage. I love the immediate feedback you get. It's a long tour. I'm in it till December at the moment, but hopefully I'll continue until it ends next summer."
S: Don't you get homesick?
JP: "Not really. I've lived away since my teens, but I am concerned about being apart from my Brichon Frise/Jack Russell puppy called Lady. My mum will be facetiming me a lot with Lady on her lap."
S: Are any of your old Hollyoaks mates coming to see you in Fame?
JP: "They tell me they've already got it booked and sorted! It'll be so good to see them."
S: Your character wasn't killed off. You could go back…
JP: "Hurrah - she's not dead! Yeah, I could in theory but I did it for eight years. It was great, like a family, but I'm enjoying doing other things. That was why I left when I did."
Get the What to Watch Newsletter
The latest updates, reviews and unmissable series to watch and more!