Ex Hollyoaks and EastEnders star Gemma Bissix and her nan get set to jump out of a plane!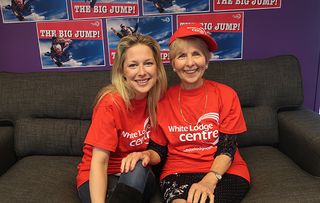 (Image credit: White Lodge Centre)
Former soap star Gemma Bissix is preparing to do a parachute jump with her 80-year-old nan in aid of a charity that is very dear to her heart…
She was manipulative Clare Bates in EastEnders and crazy Clare Devine in Hollyoaks, but now actress Gemma Bissix is taking on her biggest challenge - a parachute jump for charity!
What's happening in Hollyoaks? See the latest soap storylines
Soaplife's chat with Gemma Bissix about preparing to jump from a plane with her 80-year-old nan!
Soaplife: Gemma, are you and your gran mad? Have either of you done a parachute jump before?
Gemma Bissix: "It was my nan Tina's idea. She turned 80 this year and she said, 'I've never jumped out of a plane. I want to do it!' I'm patron of this brilliant place called White Lodge Centre in Chertsey, so we decided to try and help raise money by doing a parachute jump."
S: How did you get involved with the White Lodge Centre?
GB: "They looked after my cousin, Dean, who was born with brain damage and died at the age of four. It's a charity close to all our hearts in the Bissix family and we wanted to mark what would be his 30th birthday. My cousins, Alana and Heather, are doing it, too."
S: Are you worried for your gran?
GB: "No, she's tough. My granddad, Peter, died two years ago and she's got a bit bolder. There are things she wants to do while she has time."
S: Have you done any training for the jump?
GB: "We get shown the safety procedures. I'm in training anyway as I'm getting married in July. I need to get my figure back on track."
S: Congratulations on your wedding!
GB: "Thanks. I'm so lucky. I was single for six years before I got together with Kristian. He was a friend of my brother's growing up and I've known him for years."
S: When do you go back to work?
GB: "I have an audition for Holby. I've filmed a couple of pilots – I did one for the BBC last year and I'm doing another one this summer. My girls are one and two and a half now and, when the eldest starts pre-school I'll feel more able to let go and do my own thing.
S: Would you ever do another soap?
GB: "Some people turn their noses up at soaps, but not me. I started EastEnders when I was a kid and, as for Hollyoaks, it was the most fun I've ever had."
Get the latest updates, reviews and unmissable series to watch and more!
Thank you for signing up to Whattowatch. You will receive a verification email shortly.
There was a problem. Please refresh the page and try again.