Hollyoaks newcomer David Easter warns Cindy and Mac's big secret is about to go public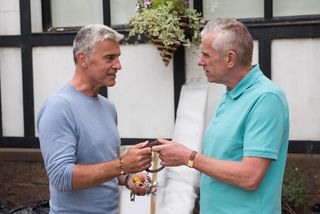 Hollyoaks new boy David Easter (opens in new tab) talks to Soaplife about the arrival of Mac Nightingale and his family, who are taking over The Dog from Jack Osborne.
There's a new landlord at The Dog in the Pond. He's called Mackenzie Nightingale, Mac for short, and he brings with him three children - Nathan (Jared Garfield (opens in new tab)), Alfie and Ellie, a young lover, Neeta, and a whole heap of drama. Oh, and he's also currently married to Cindy Savage…
Tell us about Mac?
"He's a charming and very loving man. It's all about family for him and he'll go to the ends of the earth to protect his kids. He isn't a pushover and, if you get on the wrong side of him, he'll do what he has to. But he's definitely not a villain."
Why does he want to run The Dog?
"His father ran the pub. It's named after Mac's dog, Merlin, who drowned."
What's it like being in another soap?
"I've done Brookside, Family Affairs and Emmerdale, but I've always loved Hollyoaks and I've auditioned quite a few times, but always missed out. I was thrilled to get this part."
Why did Mac marry Cindy?
"He knew Cindy [Stephanie Waring (opens in new tab)] a long time ago. During one of her breakdown periods, they met up and went on a mad bender. They went on holiday, got very drunk and ended up getting married. They both knew it was a bit of a mistake."
So why won't she grant him a divorce?
"We don't really know at the moment. She didn't sign the annulment papers after he turned up asking for a divorce in May. Perhaps it's because she's confused. She's going through these bipolar episodes. However, Mac's a wealthy man, so there may be something else Cindy wants. There's also a massive secret regarding Cindy and Mac set to come out."
Where did he meet his fiancée, Neeta (Amrit Maghera (opens in new tab))?
"At a football match. She's a beautiful young girl and she asked him out. They fell in love and he wants to propose to her, which is why being married to Cindy is such a problem. Mac's daughter Ellie [Sophie Porley (opens in new tab)] doesn't like Neeta. They're the same age and she thinks Neeta is after her dad's money."
Who is Mac's first wife and mother of his children?
"I don't know much about her. His son, Alfie [Richard Linnell (opens in new tab)], is adopted, and when Mac brought him into the relationship, she couldn't cope. She may be someone who comes into the show at a later date."
Hollyoaks (opens in new tab), Channel 4
Get the latest updates, reviews and unmissable series to watch and more!
Thank you for signing up to Whattowatch. You will receive a verification email shortly.
There was a problem. Please refresh the page and try again.