Hollyoaks' shock reveal: Scott's accomplice in the kidnap of baby Rose is Tegan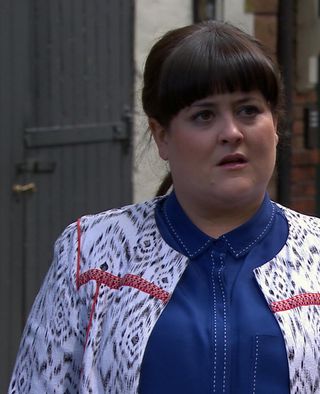 (Image credit: Lime Productions)
Did you see it? Right at the end of Friday's first look Hollyoaks on E4, it was revealed that Tegan Lomax (Jessica Ellis) knows exactly where toddler Rose is: because she organised her kidnap with Scott Drinkwell (Ross Adams).
How the extremely colourful Scott managed to slip away unseen with Rose in front of a crowd of people is a mystery yet to be solved, though…
Tegan has clearly acted out of desperation, following Diane O'Connor's (Alex Fletcher) threats to fight for custody of Rose, who is Diane's birth daughter, swapped with Tegan's daughter Dee Dee by drunken midwife Mariam Andresw (Helen Lederer) when the girls were born.
As Diane is arrested for the kidnap at a press conference, Tegan is shown turning up at Scott's hideaway, and asking: "What the hell have we done?"
What, indeed?
Hollyoaks continues on C4/E4 Monday, 6.30pm/7.00pm
Get the latest updates, reviews and unmissable series to watch and more!
Thank you for signing up to Whattowatch. You will receive a verification email shortly.
There was a problem. Please refresh the page and try again.