Hollyoaks star Charlie Wernham's Bad Education: 'Like Mitchell, I have a problem with authority!'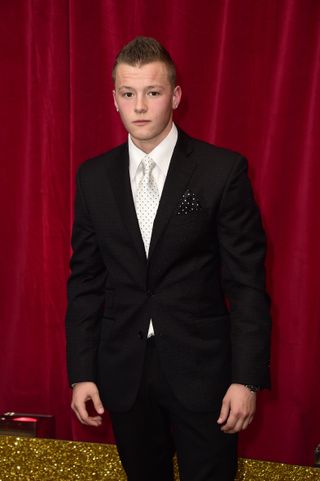 (Image credit: Matt Crossick)
Charlie Wernham (opens in new tab) talks to Soaplife about taking a break from Hollyoaks to star in Bad Education the movie with the gang from the BBC3 comedy series (opens in new tab)…
So, is it back to school?
"Not quite. [Comedian and writer] Jack Whitehall (opens in new tab) is back as teacher Alfie Whickers and he takes his class on a school trip. We shot it in February and March this year around Cornwall and at some castles in Wales. They were really good at Hollyoaks and rescheduled Robbie Roscoe's storylines so I could do it."
Your Bad Education character, Mitchell, was last seen in a youth detention centre. Is he out now?
"Yes. But he still has the psychopathic edge and capacity to do anything nutty. I have method acted my way through my whole school life as Mitchell."
Were you as badly behaved as Mitchell at school?
"I'm afraid that, just like him, I had a problem with authority. I didn't like being told what to do and enjoyed making people laugh. I did get my GCSEs, though. I started doing A Levels, but gave them up when I got a part in the Bad Education TV series. I have no regrets. The show has been a massive and brilliant part of my life."
What's it like playing a 15-year-old boy when you are 20?
"It's great because, basically, you have to lose every adult trait you have and that is easy for me as I don't have many. You can just let yourself go and the great thing is that Jack and his co-writer [Freddy Syborn (opens in new tab)] are happy for you to chuck things in ad-lib and that is where some of the comedy gold comes from."
What did you contribute to the script?
"Childish insults that are probably not suitable for publication!"
How do you get on with Jack?
"We get on well. He uses me as an excuse to be seen going out in Essex as he loves TOWIE (opens in new tab). He secretly wants to be in that and I wouldn't be surprised if he started using St Tropez, going to the gym and driving a Beamer. I can see him popping up in it although he is a bit more Made In Chelsea."
Bad Education (opens in new tab), the movie, is released today.
Here's a taste of what to expect…
http://www.youtube.com/watch?v=gSLFUsHAXTs
Get the latest updates, reviews and unmissable series to watch and more!
Thank you for signing up to Whattowatch. You will receive a verification email shortly.
There was a problem. Please refresh the page and try again.