Is the Gloved Hand Killer about to strike again? Hollyoaks star Sophie Austin reveals all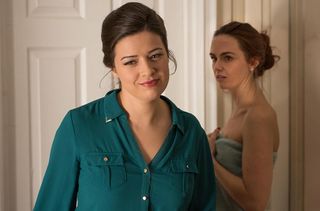 Hollyoaks' Gloved Hand Killer Lindsey wants Joe, and she comes up with a plan to get love rival Mercedes out of the way, Sophie Austin tells Soaplife…
Lindsey wants to forget about being the Gloved Hand Killer and settle down with Joe. But with Mercedes very much in the way, Lindsey needs a plan.
"She tells Joe she's pregnant with his baby and she hopes that he'll decide to be with her," Sophie says. "But things don't go according to plan…"
How does Lindsey fake the pregnancy?
"She takes a used pregnancy test from the hospital and plants it where Joe [Ayden Callaghan] can find it. But he thinks it belongs to Mercedes and he's excited about the prospect of having another baby with her."
Ooops! But Lindsey tells him it's her's, right?
"Yes, but she doesn't get the reaction she hoped for, so she has to go a step further and she tells Cindy [Stephanie Waring] she's having an abortion because Joe doesn't want to be with her. Joe finds out, thinks, 'I can't lose another baby' and he rushes to the hospital to stop her, which is what she wants."
Do they break the news to Mercedes?
"Lindsey wants it to be a secret between her and Joe, so she tells Mercedes [Jennifer Metcalfe] some guy at the hospital is the father. But a suspicious Mercedes decides to trace him."
So is her main aim to get Joe back?
"Absolutely. She believes if she has him, everything will fall into place. She's a woman on the edge."
What did you think when you found out Lindsey was the killer?
"It was a double-edged sword, really, as I realised she'll have to have her comeuppance. There will have to be an end of the road for her at some point. On the other hand, I'm lucky to work on such a big story."
When do you leave the show?
"I don't know. I don't know how it's going to end yet."
Hollyoaks, Channel 4
Get the latest updates, reviews and unmissable series to watch and more!
Thank you for signing up to Whattowatch. You will receive a verification email shortly.
There was a problem. Please refresh the page and try again.