Kieron Richardson reveals why Ste and Harry are on the road to nowhere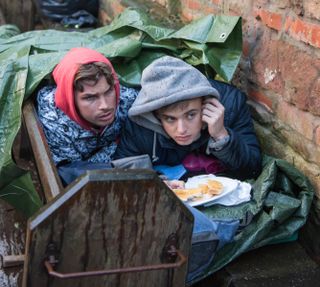 Hollyoaks (opens in new tab)' luckless Ste and boyfriend Harry suddenly have no roof over their heads and are out on the street. Kieron Richardson gives the inside story to Soaplife…
Starry were living with Myra (Nicola Barber-Lane)… Why does she chuck them out?
"They break an ornament that Nana McQueen bought her for Christmas while they're being naughty on the sofa and she loses it. They try hard to find places to stay, but soon all their options dry up and they're in trouble. They end up at the Osbornes', as they pretend Esther's coffee shop was burgled and they saved the day. However, Ste thinks Harry's in the shower, so he gets naked in the bathroom, pulls back the curtain… and it's Jack [Jimmy McKenna]. He kicks them out, so they end up sleeping rough at the Folly."
That can't be good…
"It's their lowest point. The weather's miserable, they're really cold and hungry, and they have nowhere else to go."
What do they do next?
"They see an opportunity when the Roscoes want a chef to cook a meal to celebrate Jason [Alfie Browne-Sykes (opens in new tab)] passing his firearms fitness test. Ste offers, then asks if they can stay, but Freddie [Charlie Clapham (opens in new tab)] says 'No'."
So Ste does something drastic, right?
"Sleeping outside was so horrendous that Ste doesn't want Harry [Parry Glasspool (opens in new tab)] to do it again and he begs Tony [Nick Pickard (opens in new tab)] to make him come home. He loves him and he doesn't want to see him suffer."
We hear you're working with the homeless charity Shelter for this story…
"Yes, they've been working with our research team and we plan to spend a day with them down in London. When the character of George was homeless, we all slept outside in the village overnight and that gave me a taste of what it might be like. It was so cold. I often chat to homeless people in Manchester and offer my spare change. They're ordinary people just like me and they're often there through no fault of their own."
Will Ste's fortunes improve?
"Well, I'm dressed as a homeless person right now. I have a beard and curly hair, so no! There are some more things coming up for Ste, which I can't talk about. At one point, his life will be in jeopardy again. There isn't any light at the end of the tunnel and I'm glad. I wouldn't want it any other way. The day he's just asking for a drink at The Dog is the day I'll put his tracksuits in the bin and give up!"
Hollyoaks (opens in new tab), Channel 4
Thank you for signing up to Whattowatch. You will receive a verification email shortly.
There was a problem. Please refresh the page and try again.