Rape accusation 'could ruin Dodger's life', says Hollyoaks' Danny Mac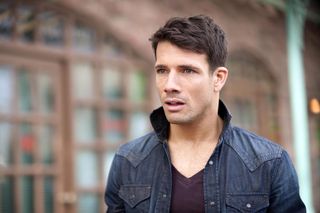 (opens in new tab)Hollyoaks' Danny Mac (opens in new tab) tells Soaplife that just when Dodger starts to think about settling down he's accused of sexual assault and his dreams are shattered...
So why is Dodger accused of attacking Holly?
"Cindy works out that Holly slept with Dodger and when she asks Holly if she gave consent, she doesn't answer. Cindy assumes that Dodger attacked her daughter and decides to go to the police. It's really serious - this could ruin his life."
Does he feel guilty about sleeping with Holly?
"It was a silly mistake and shouldn't have happened. He's 27 and Holly's 16. But she is legal and she consented so he didn't actually do anything wrong."
Is he worried about what people will think?
"Yes. He doesn't want Maxine to think the worst and there's the fact that he has always been a bit of a ladies' man, so people might think he is capable of something like that."
Talking about Maxine, how does Dodger feel about her?
"He's really keen on her, but he thinks he can never have her. She's with Patrick and he doesn't know what Patrick is really like. Now that she's pregnant, it means she's even further out of his reach."
But he's there for her as she waits to hear if her baby has Down's Syndrome…
"Yes, he offers Maxine his support… Especially as he realises that Patrick is not all he seems when he makes it known that it would be a problem for him if there were something wrong with the baby. That wouldn't bother Dodger. He would love that child as his own because he has such strong feelings for Maxine. He'd be a great dad."
Why can't he be attracted to a woman without baggage?
"I don't think they exist in Hollyoaks. But as far as he sees it, Maxine is the perfect choice. Maxine is kind, intelligent and beautiful. He's hoping that if he hangs around for long enough, she'll realise that he's the man for her."
What's in store for Dodger?
"A lot more drama and upset. But I'm enjoying it and at least I can go home at night and be thankful that I'm not really Dodger."
Get the latest updates, reviews and unmissable series to watch and more!
Thank you for signing up to Whattowatch. You will receive a verification email shortly.
There was a problem. Please refresh the page and try again.