Scott thinks he's getting the mum he always wanted, says Hollyoaks' Ross Adams. But is he?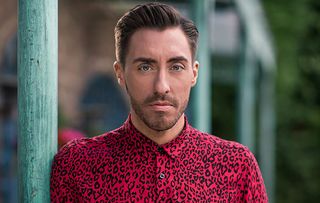 Scott Drinkwell is out of hospital and he's delighted mum Maggie Kinsella wants to bond with him. But it could all go wrong, Hollyoaks' Ross Adams warns Soaplife…
Following his second suicide attempt, Scott Drinkwell is discharged from hospital and ready for a fresh start. And it looks like he might get the happy family he always wanted, says Hollyoaks' Ross Adams
What's the story?
What really bolsters adopted Scott Drinkwell when he gets out of hospital is the fact he has his family around him. But are they really all acting in his best interests? "He's over the moon when his previously cold birth mum, Maggie Kinsella, announces she has warmed to the idea of having a relationship with him," Ross Adams tells Soaplife. "His half-brother, Brody Hudson, is suspicious of her motives, but Scott isn't. It's all he's ever wanted!"
What's happening in Hollyoaks? See the latest soap storylines
Ross Adams reveals all to Soaplife
Soaplife: How's Scott feeling now he's been let out of hospital?
Ross Adams: "He's feeling very positive. He's got his brother and his biological mum and he thinks things are starting to go well for him at long last. He finally feels a sense of peace and happiness."
S: Why is it so important for him to bond with Maggie?
RA: "He's always felt like an outsider and it floored him when he found out Lynette wasn't his real mum. All he's ever wanted is to be part of a family. Since he found out he was adopted, he's felt lost. This is the first time he's had a sense of belonging."
S: Clearly, he's still quite fragile…
RA: "Yes, of course he is. He's probably the last person you'd expect to experience mental-health issues, but we've seen his humour is part of his coping mechanism. Behind all that bluster and bravado, he's quite fragile and his last suicide attempt wasn't that long after the first. A lot of people, like Diane Hutchinson, are worried about him. And rightly so."
S: What does he want from Maggie?
RA: "He wants her to take an interest in him. When he comes out of hospital, Maggie offers to go to the theatre with him to watch a musical. He's super-impressed with that because he feels like she knows he's into musicals. He's like, 'Wow, my mum wants to come and see Hairspray with me! That's amazing!'."
S: Some people are suspicious of Maggie, aren't they?
RA: "Yes, Diane is and so is Brody. Scott isn't at all. He just wants to find out as much as he can about his mum and his dad. He's desperate to cram in as much time with her as he can."
S: Could it all go horribly wrong?
RA: "There's always that potential with Hollyoaks and Scott's always been a bit of a victim. He's been so unlucky in love and there's been a catalogue of rejection. It would be lovely for him to find some stability."
S: Are you pleased that his family are on the scene?
RA: "Yes, because for a long time, there was a whole side of Scott's life that was unexplored. I especially like the fact he has a brother on the scene. That's opened up a whole new side to him."
Hollyoaks, Channel 4
Get the latest updates, reviews and unmissable series to watch and more!
Thank you for signing up to Whattowatch. You will receive a verification email shortly.
There was a problem. Please refresh the page and try again.