Silas and Lindsay lure Mercedes into a trap in Hollyoaks!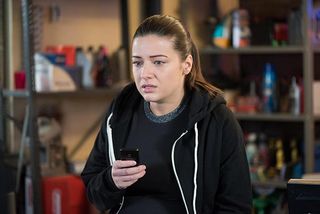 With sinister psychopath Silas Blissett back in (opens in new tab)Hollyoaks, it was only a matter of time before he set his sights on Mercedes. She may have escaped his ruthless murder spree four years ago, but he's not going to let her get away this time.
Now that he's teamed up with Gloved Hand Killer Lindsey, it's two against one as the creepy duo form a plan to lure Mercedes into their web. The pair use Joe's mobile to entice her over to the Roscoe's, but their plot deviates when Lindsey's waters suddenly break!
With killer Lindsey looking as if she's about to give birth at any second, it's left to Silas to deal with Mercedes alone.
Lindsey finds Joe's phone and sends Mercedes a text to lure her over to the Roscoe's...
But the Gloved Hand Killer is soon bending over in agony as her waters break...
Sinister Silas watches as Mercedes walks right into his trap.
Mercedes is forced to play a terrifying game of chess...
Will she escape Silas for a second time?
Or is it game over for the one who got away as Silas prepares to do his worst?
Find out in Hollyoaks on Channel 4 from Monday, May 16
Get the What to Watch Newsletter
The latest updates, reviews and unmissable series to watch and more!